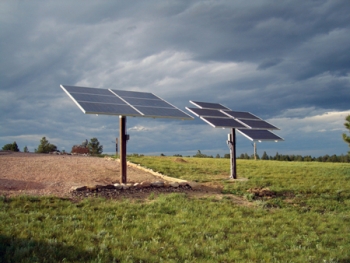 Solar panels at Terry Sandstrom's home in Wheatland, Wyo. | Photo courtesy of Terry Sandstrom
Terry Sandstrom never thought he would run his house entirely on renewable energy, but when faced with a $100,000 price tag to get connected to the grid, he had to look at alternative options.  The man who spent his entire life in houses pulling energy from the grid now has 12 solar panels on his front lawn and a wind turbine in the backyard."I had no involvement in the renewable energy process until I got up here," says Terry, who moved from Nebraska to Wheatland, Wyo. in 2006. "People think it's such a technical process, but it isn't."
A $3,000 grant from the Wyoming State Energy office helped Terry pay for a four-panel system when he first moved in, but it was money from the American Recovery and Reinvestment Act that made it possible for him to upgrade the power systems for his 3,400-square-foot home.
"It was a blessing that came out of the stimulus package," says Terry. "I knew I had to increase the input to make a self-sufficient system."
Terry was able to apply for a $10,000 grant to help pay for six 195-watt and six 230-watt solar panels on his property and another $10,000 grant for a new wind turbine, which Terry hopes will be running by August.
The solar panels and the wind turbine charge 24 battery packs that power Terry's home.
In 2009, the state energy office received over $34 million in stimulus funds to promote energy efficiency in buildings and homes. About $25 million of that was awarded through the State Energy Program (SEP); the rest came from an Energy Efficiency and Conservation Block Grant.
Terry took advantage of the state's residential photovoltaic program, which received about $2.2 million from the SEP. When his projects are approved by the state energy office, Terry will be reimbursed for his upgrades.
"It's a wonderfully popular program in Wyoming, and it's very encouraging to see the residents interested in pursuing these projects," says Shannon Stanfill, manager of the Wyoming State Energy Office. "I hope the momentum continues."
Terry says his average electric production after he installs the Sky Stream turbine will be 24.5 kilowatt hours daily—more than enough power to run his house.
He's also become the go-to guy in his neighborhood.
"The grant was a learning process for me," Terry says. "I have a lot of people from the area come to my house to get ideas on how they want to do their own renewable projects."
This story was updated on July 9, 2010 to reflect additions to Terry Sandstrom's renewable energy systems.