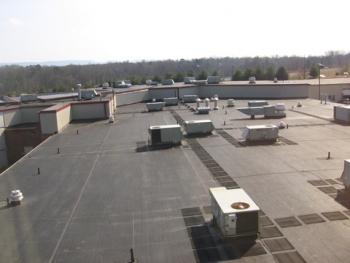 The roof of the justice center where a solar panel array will be installed to power a solar thermal water-heating system | Photo courtesy of Blount County, Tenn.
A solar thermal water-heating system at the justice center in Maryville, Tenn., is helping to reduce energy consumption and cut costs for Blount County.
Funded by $300,000 of the $501,600 Energy Efficiency and Conservation Block Grant (EECBG) awarded to Blount County through the Recovery Act, the solar thermal water-heating system will retrofit the detention facility's existing gas-powered water-heating system. Specifically, the solar thermal water-heating system will serve kitchen and laundry machines at the center. Power for the renewable energy source will come from a solar panel array that will be installed on the center's roof starting in September.
For Blount County, the project should result in big savings. "This will definitely bring in taxpayer savings," says Dana West, grants administrator for Blount County. "Installing the new water-heater will lower natural gas and electric bills because of less fossil fuel based energy that will be used at the justice center."
In addition, West says that six new temporary construction jobs will be created out of the EECBG-funded project.
The solar thermal water-heating system is only one part of Blount County's greater goal of becoming more environmentally conscious. Funding will also be used for several other projects, including an occupancy-sensor lighting retrofit in county buildings and elementary school energy educational outreach. West will personally visit second grade classrooms to educate more than 950 students on the benefits of everyday recycling and energy savings.
"This grant is very important because it allows us to approve projects that wouldn't otherwise be at the top of our priority list and saves the county taxpayers money," West says.