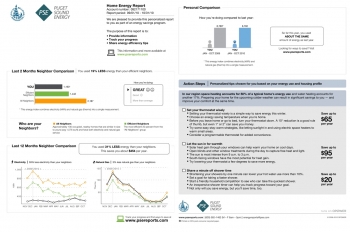 Check out this residential energy report, one of many that's helping residents all over King County, Washington save energy and money at home.
In 2010, seven cities in King County, Washington -- known as the C-7 New Energy Partnership -- joined forces with local utility Puget Sound Energy (PSE) and energy management software company OPOWER to help nearly 100,000 residents reduce their home energy consumption. The program, which was made possible in part by Energy Efficiency and Conservation Block Grant funding from the Recovery Act , has become an easy and informative way for residents to understand their energy consumption, compare their household use against neighbors, and identify effective options to reduce their costs. 
Aggregated results from the first six months of the program show that the Home Energy Reports have helped residents save nearly $525,000 in energy bills and more than 5.2 million kWh of electricity -- enough to power more than 435 homes for an entire year. 
Periodic reports, delivered in the mail and accessible online, provide homeowners with information on their electricity and natural gas usage, and include:
Progress Trackers: Participants can see how their energy use changes over time so they can set targets of energy savings and track the effectiveness of any energy-reducing steps they've taken.
Personalized energy-efficiency tips: Each report gives participants tips chosen specifically for them based on their energy use and the characteristics of their home.
Regional comparisons: Participants are able to see how their energy use compares to the aggregate usage of anonymous customers in similar-sized homes. This is similar to comparing the gas efficiency of a car – providing greater context so each homeowner understands how they're using energy.
Energy efficiency is widely considered the greatest resource for saving money, reducing consumption and conserving natural resources. The Home Energy Reports Program deployed throughout the C7 cities is an example of the tremendous potential that exists for consumers to tap into these savings by having better tools to understand their energy use. 
One of the unique aspects to this program is high participation rate of residents. 90,000 homes are participating, and only .05% of residents chose not to participate. The program has demonstrated a way to reach a huge regional market share with low cost energy efficiency gains.
For more information, visit www.psereports.com.
The C-7 New Energy Partnership includes the cities of Bellevue, Issaquah, Kirkland, Mercer Island, Redmond, Renton and Sammamish.