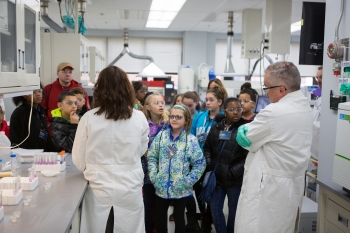 Students tour the National Energy Technology Lab (NETL) as part of My Brother's Keeper Week at the Labs. | Photo courtesy of NETL.
The next generation of scientists got a glimpse of what it's like to work at a National Lab this week.
Storified by Energy Department ·
Fri, Mar 04 2016 20:28:45
This week, our National Labs opened their doors to hundreds of students from communities across the country. These kids got up close and personal with their local labs -- participating in hands on science experiments, touring of the state-of-the-art facilities and getting one-on-one mentorship from science, technology, engineering and math (STEM) professionals.
Idaho National Lab kicked it off on Friday, where students got to tour the CAVE -- a room that has walls that can display data and computer graphics in three dimensions.
On Monday, the White House hosted a mentoring lunch for students with STEM professionals.
While kids at Los Alamos National Lab got to try on hazmat gear.
On Wednesday Brookhaven National Lab took over our Instagram account, and shared some fantastic shots of kids getting a closer look at science.
Just look at those smiles!
Students visiting Oak Ridge National Lab took a selfie in a 3D-printed house.
And Lawrence Livermore National Lab tested whether girls or boys were stronger using air pressure.
Even other agencies got involved, like NOAA and the Navy!
Although we called it #MBKLabWeek, it actually extends even further. Today kids are visiting Princeton Plasma Physics Lab, where they're making ice cream with liquid nitrogen and light sabers with neon!
I mean who can say no to playing with light sabers?
And other labs will be hosting students from their communities throughout the month of March and beyond.
As Secretary Moniz often says, we need all hands on deck to solve our nation's energy problems. My Brother's Keeper Week at the Labs was a great way to encourage kids of all backgrounds to study STEM.
For more highlights from the week, check out #MBKLabWeek on social media.