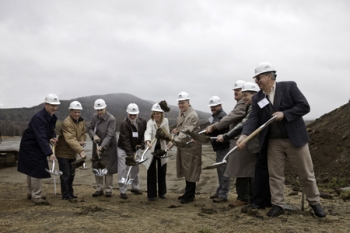 U.S. Rep. Peter Welch (from left), Vermont Lt. Gov. Brian Dubie, SBE board member Win Hunter, SBE board chair Stan Fishkin, Assi
A Vermont company broke ground on a new factory that will produce cutting-edge technology for electric and hybrid cars and create more than 100 jobs.  
The event ushering in SB Electronics' power ring capacitor facility in Barre was attended by Vermont Gov. Jim Douglas and federal, state and local officials.
Cathy Zoi, the assistant secretary of Energy Efficiency and Renewable Energy at the U.S. Department of Energy, hailed SBE as a model for America's clean energy economy:  "Here in Vermont, your innovation is a great benchmark that others around the country should be replicating."
Production of the new power ring capacitors, which will be used on power trains of hybrid and electric vehicles, is expected to begin early next year. The capacitors will convert direct current from batteries to alternating current, which powers the vehicles' motors. About 130 jobs will be created, according to SBE. 
"This is an example of jobs that are going to stay here rather than go to China," Douglas said.
SBE was awarded a $9.1 million matching grant from the Recovery Act to help pay for the 52,800 square-foot facility. The company also received state tax credits and municipal tax incentives.
Sam Matthews, head of the Central Vermont Economic Development Corporation, praised the work of SBE and the government. "This morning we are celebrating government and private-sector collaboration at its very best," he said.
The new facility will help address the country's needs for alternative-fuel vehicles, said Ed Sawyer, SBE's president and CEO. "In the middle part of this decade, I think we'll see a lot of electric vehicles," he said. "We're hoping that many vehicles have that product in them."
U.S. Rep. Peter Welch said SBE's new factory has many benefits for America. "It is an opportunity for us to take on the challenge of energy independence and see it as a way of building the economy and making us stronger, not weaker."
"We've got SB Electronics showing us how taking on that challenge is tremendous for the local economy."