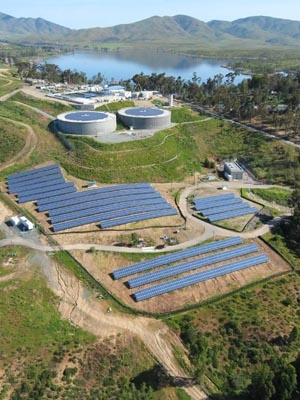 San Diego's Otay Water Treatment Plant is generating clean electricity along with clean water, with a total capacity of 945 KW | Photo courtesy of SunEdison
Just north of the U.S.-Mexican border, San Diego's Otay Water Treatment Plant processes up to 34 million gallons of water a day. Thanks to the city's ambitious solar energy program, the facility may soon be able to do that with net zero electricity consumption.
In early April, workers activated a 945-kW solar photovoltaic (PV) energy system on top of the plant's water tanks. The PV system is expected to generate 1.5 million kWh of clean solar energy annually — more than enough to power the facility. In addition, the renewable energy system will avoid the release of an estimated 29 million pounds of carbon dioxide emissions over 20 years.
It's all part of meeting the City of San Diego's long-term goal: establishing 5 MW of solar energy capacity for city facilities by 2013. The Otay project is actually the second solar system installed on a city-owned water treatment plant; the first is a 1.1-MW array at the larger Alvarado Water Treatment Facility. Another PV system is planned for a third water treatment plant. The city also has 11 smaller installations on the tops of city-owned facilities like fire stations, libraries and recreation centers. All together, the solar installations total 2.3 MW in capacity.
"Environment California named us the number-one solar city in California last year," says Tom Blair, the city's Deputy Director for Energy, Sustainability and Environmental Protection. "And since California has more [solar power] than any other state in the country, we figure that we're probably number one in the country."
Solar energy savings
The systems at Otay and Alvarado were built by contractor SunEdison. San Diego has agreed to buy all of the power generated for the next 20 years; SunEdison owns and maintains the systems. This arrangement allows the systems to be built with no upfront cost to the city. In fact, the systems help the city save money, with rates for the solar power set below the price of conventional power. San Diego can even sell a little extra power back to its utility during peak hours.
"We figure over the life of the systems, we will save about half a million dollars for each," Blair says. "We believe [conventional] energy prices are going to go up faster than our contract rates are going to go up, so our savings are going to increase."
Although San Diego's sunny climate makes solar power a good fit, the city's renewable energy efforts don't stop there. Blair says the city has deployed a combined capacity of 20 MW of renewable energy systems. This includes systems generating energy from biogas and hydroelectric sources at the Point Loma Wastewater Treatment Plant — also a net-zero energy facility.
"The city wants to remain a leader," Blair says. "We do that by getting out in front and showing that it can be done."