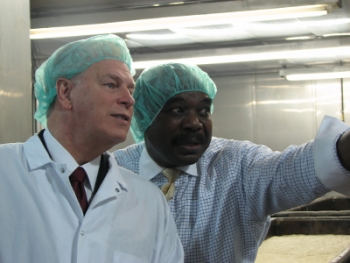 Ohio Governor Ted Strickland (left) got a tour of the New Horizons Baking Company with CEO Tim Brown this winter to announce the grant.| Photo courtesy of New Horizons Baking Company
Bread aficionado Tilmon Brown has been on a roll for the last 45 years, with no signs of stopping.
The father of three worked his way up the bun food chain—from route salesman for Wonder Bread in Buffalo, N.Y., in the 1960s to owner and CEO of New Horizons Baking Company in Norwalk, Ohio.
"It's been a great ride," he says.
But the journey is far from over for New Horizons.
McDonald's, buns and workers
Brown's bun and muffin company was awarded $1 million in Recovery Act funds through the State Energy Program for an energy upgrade that will help keep New Horizons competitive and people working in an area that has an unemployment rate hovering around 13 percent.
The original oven, which has supplied buns to more than 1,300 McDonald's—among other fast food restaurants—in seven states for the last 42 years, was replaced in May.  The new oven increases energy efficiency by 25 percent and production by about 20 percent.
"With this equipment, we will be in a better position to implement our growth strategy," says Brown, of the $3.4 million project.
"We employ 160 people in Norwalk.  By making this upgrade not only do we ensure those jobs, but we will bring in new business because we are increasing production. That's putting more people to work, which will the benefit the county," notes the CEO.
 
Because of the funds, Brown says that within the next 12 months, the company will also be in the position to hire more workers.
More buns, less energy
The new BakeTech oven produces 5,000 buns per hour, compared to 4,000 in the old oven, and does it using less energy.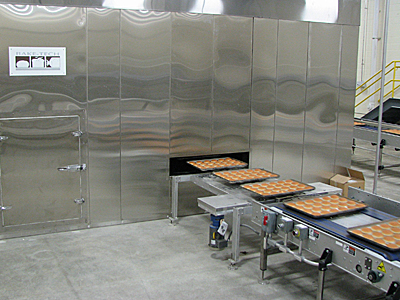 New Horizons Baking Company's BakeTech oven produces 5,000 buns per hour. | Photo courtesy of New Horizons Baking Company
Since waste heat from the oven powers the proofer—the machine that provides the heat and humidity for the dough to rise to the appropriate specification—and tray wash system, the bakery was able to eliminate a boiler.
The result is a significant savings in natural gas, 2.4 billion BTUs per year from the boiler alone.
"It's a much more uniform-quality product; it's less maintenance; and it's increased capacity," says Mike Porter, vice president of sales. "And it's going to be more energy efficient."
Creating growth in hard hit local economy
In January 2009 in Huron County, where Norwalk is located, the unemployment reached a staggering 18 percent, the highest in the state at the time.  It has since dropped to 13 percent.
Despite such an economic downturn for the area, business was brisk for New Horizons, which reported strong sales in 2008 and 2009.
In an effort to maintain that momentum and keep people working, the Norwalk Economic Development Corporation helped the 43-year-old company navigate the funding opportunity to become more energy efficient and save money.
"We've always been about growth," says Brown, who took over the now certified minority-owned business with his partners in 1995. "And the grant certainly helped us in terms of business to be able to stabilize our capital budget and move forward."
The company added 9,000 square feet to the 64,000-square-foot Norwalk facility in order to accommodate the new oven. It also has another facility in Indiana.
According to New Horizons, the Recovery Act award paved the way for the next addition to the Norwalk facility, a 20,000-square-foot addition currently under construction.
"We need to have the ability to invest in this business and remain as a cost-competitive supplier," says Porter. "And the grant is helping us do that."