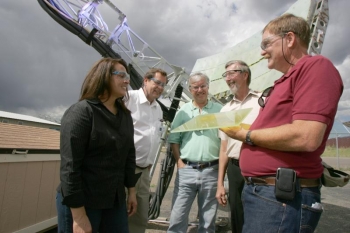 NREL's Ultra-Accelerated Weathering System tests products for outdoor durability. (left to right), Judy Netter, NREL; Henry Hardcastle, Atlas Material Testing Technology; and Al Lewandowski, Gary Jorgensen and Carl Bingham of NREL. 
| Photo Courtesy of Joe Poellot
How can you test the effects of sun damage on a product without overheating the product being tested?  A unique collaboration between the Department of Energy's National Renewable Energy Laboratory (NREL), the Russian Institute of Laser Optical Technology and Atlas Material Testing Technology of Chicago has a solution.
They've developed The Ultra-Accelerated Weathering System (UAWS), which simulates the harmful effects of decades of sun damage on outdoor products like coatings and paints in just a matter of months. Sun damage is a particularly difficult weather effect to test because it requires a process that amplifies the effects of the sun without overheating the product being tested. Additionally, the majority of sun damage is caused by UV rays, not the visible and near-infrared rays that we associate with the sun's heat.
The UAWS adjusts for these issues by using an array of 29 curved high-tech mirrors to focus UV wavelengths on a target area. Alternating high- and low-refractive coatings on the surface of the mirrors, 96 layers of coatings in all, ensures that UV wavelengths are primarily reflected toward a chamber that holds the products being tested. It's a process called "spectral splitting" – because the mirrors block the reflection of visible spectra and near-infrared wavelengths, the system dramatically reduces overheating. These characteristics make the UAWS perfect for accurately simulating sunlight damage 12 times faster than was previously possible – both for familiar outdoor products like roofing shingles and for cutting-edge materials like Skyfuel's Reflectech mirror coating, another NREL invention that could greatly reduce the delivered cost of concentrating solar power.
While the idea for the weathering system was conceived by NREL scientists Al Lewandowski, Gary Jorgensen, Carl Bingham and Judy Netter, the innovative mirror design and fabrication of the UAWS were handled by a team of scientists from Russia's Institute of Laser Optical Technology. NREL partnered with their Russian counterparts through the Department of Energy/National Nuclear Security Administration's (NNSA) ongoing Global Initiatives for Proliferation Prevention (GIPP) program.
Following the end of the Cold War, the U.S. government, through a number of cooperative threat reduction programs, engaged weapons scientists in the former Soviet Union on collaborative R&D projects to develop peacetime innovations. GIPP, one such program, sought to help these scientists support their families, while contributing to the development of commercially viable products.
Led by Vladislav Yampolskiy, scientists at the Institute of Laser Optical Technology invented the UV-only mirrors, designed and built the mirror array in Russia, and delivered the prototype UAWS to NREL. In 2008, Vladimir Kiselev was instrumental in realizing the final, scaled-up version that provides test results 12 times faster than other accelerated weathering systems.
The UAWS was brought to commercial fruition through the support of the Office of Energy Efficiency and Renewable Energy's Technology Commercialization Fund (TCF). The TCF provided $132,000 as part of a cost share agreement that matched NREL with Atlas Material Testing Technology, an industry leader in weathering testing instruments and services. Scientists from both partner organizations came together to prove out the performance and commercial appeal of the system.
The engineers at Atlas were so impressed with the UAWS they tested that they ordered a second unit last year that arrived in March 2011. In addition to giving the Illinois-based company a competitive edge in a multibillion dollar global industry, the unit's unsubsidized purchase and arrival in March 2011 mark a small but significant milestone for the Global Initiative for Proliferation Prevention, NREL and the Department. Thanks to this unique invention, consumers and commercial solar power developers alike will benefit from better, longer-lasting materials.
Ben Squires is an analyst and contractor to the Office of Energy Efficiency and Renewable Energy.