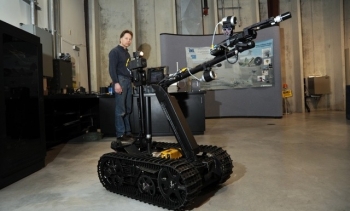 A technician at Idaho National Laboratory demonstrates the modified TALON robot.
The Department of Energy has been working around the clock to provide whatever assistance we can to the Government of Japan as they work to bring the Fukushima nuclear reactors under control. One unique capability that the Department has recently mobilized to help in this situation is an expertise in robotics.
The Department of Energy sometimes uses remotely controlled robotic machines to conduct environmental cleanup and other activities in contaminated environments. Obviously, these are quite different than the nuclear reactor in Japan, but at the request of the Japanese officials, the Department has been evaluating those capabilities to determine how robotic systems could be utilized in the response effort.
Situations like this demand ingenuity and innovation, finding new uses for existing tools to tackle time-sensitive challenges. The modified TALON robot from the Department of Energy's Idaho National Laboratory (INL) touched down in Japan this past weekend, and is prime example of how creative vision and technical expertise can come together to help address pressing problems.
Originally developed by QinetiQ to assist with high-risk reconnaissance and the disposal of explosives and hazardous materials, the TALON has primarily been used in defense scenarios that benefit from the TALON's ability to endure a wide spectrum of conditions and deftly navigate a diverse set of terrains.
Those same versatile traits made the TALON stand out to the robotics experts at Idaho National Laboratory when they began to evaluate how they could best assist with the situation in Japan. They quickly determined they could leverage their expertise to equip an existing commercial product like the TALON with a suite of integrated sensors, enhancing its capabilities to provide visual, radiological survey, and/or mapping data about areas that are not accessible to humans due to radiation levels that may be above recommended safety guidelines. You can get a glance at the end result in the clip below:
Additionally, the Department of Energy's Office of Nuclear Energy and INL are also providing radiation-sensing packages for robots already in the possession of the Japanese government and a four person technical team to provide training and assistance in the deployment of robotics to "map" the radiation fields near the reactors, as well as advice regarding shielding and automated heavy equipment.
Learn more about the Department of Energy's response to the situation by visiting Energy.gov/Japan2011.