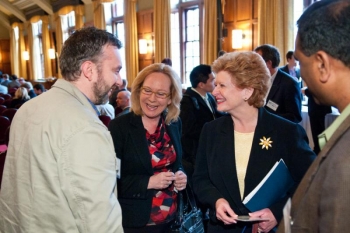 Senator Debbie Stabenow at the Revitalizing Innovation in Michigan for Clean Energy Manufacturing Workshop
To create jobs and win the clean energy race, we need to make sure technologies are invented in America and made in America. Last week, I got to take my boss, Henry Kelly (Acting Assistant Secretary for the Office of Energy Efficiency and Renewable Energy), to my home state of Michigan so he could meet with America's future leaders in clean energy manufacturing. Over the course of two days, we attended a workshop entitled "Revitalizing Innovation in Michigan for Clean Energy Manufacturing" to have a conversation with key stakeholders about what's working and what we can do better to promote innovation in manufacturing.
We were joined by well more than 350 guests including members of industry, venture capitalists, policy makers and researchers. We also heard from more than 30 participants on six panels to discuss a number of important issues to clean energy manufacturing. Assistant Secretary Henry Kelly, Members of the President's Council of Advisors on Science and Technology (or "PCAST") Rosina Bierbaum and Dennis Assanis, University of Michigan's Vice President for Research Steve Forrest and Michigan Senator Debbie Stabenow also spoke.
We learned that Michigan has expanded its manufacturing focus beyond automobiles to include cutting-edge clean energy technologies. Companies across Michigan are producing advanced batteries, motors, controllers, lighting devices, wind machines, photovoltaic modules, and other clean energy products. Thanks to the Recovery Act and other measures, Michigan has leveraged its manufacturing strength to become a leader in clean energy manufacturing and the jobs it creates.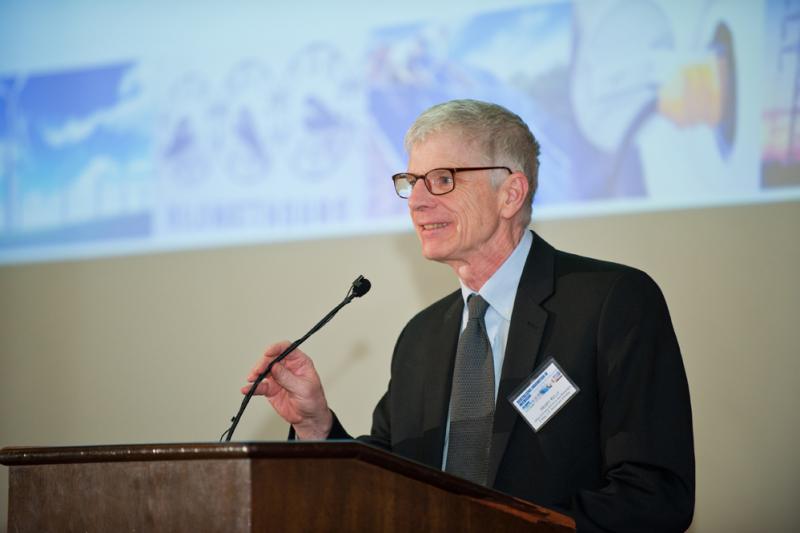 Acting Assisstant Secretary Henry Kelly at the Revitalizing Innovation in Michigan for Clean Energy Manufacturing Workshop
We heard from Venture Capitalists about what they are looking for to get more involved. We heard a number of great stories of companies diversifying their portfolios, like Energetx Composites, who diversified from luxury yacht making to manufacturing components for wind machines. We discussed the struggles and opportunities of a changing supply chain, especially with Michigan's many battery companies. We learned about the opportunities to manufacture products more efficiently, with great examples from Dow Chemical Company where they have built efficiency into their culture with employee incentive programs. To compete in the global economy, Michigan and the U.S. need to continue to innovate, so we also focused in on commercialization of innovative technologies to learn what barriers exist in this region, compared to coastal competition. We had a very interactive panel on the role of government, with the audience engaging directly with Michael A. Finney, head of the Michigan Economic Development Corporation as well as the White House. We also met some of the key players ready to take advantage of the Great Lakes' excellent wind resource.
As Jeff Metts, President of Astraeus Wind Energy and Dowding Industries, reminded us, when the automobile was first invented, our cars were not able to call 911 when the airbags deployed (there weren't airbags then either). In other words, we don't know yet all the breakthroughs that will happen in clean energy, but the possibilities are great for Michigan and the U.S.