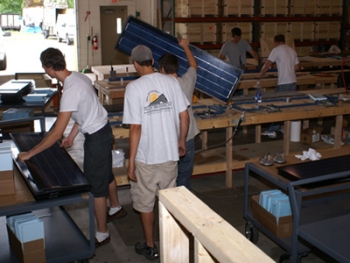 LUMA Resources employees are working toward a clean energy economy. | Photo courtesy LUMA Resources
It was 10 years ago when Robert and Gary Allen built the plant in Rochester Hills, Mich., where Allen Brothers, Inc. currently manufactures roofing products. And for those 10 years, half the building stood unused.
Reinventing the family business
The two brothers in charge - President Robert Allen and CEO Gary Allen - always intended to lease out that other half of their building but never really needed to. Now, with $500,000 in funding from the American Recovery and Reinvestment Act, that empty half has been retooled to manufacture an innovative new solar energy product - solar shingles. The project is expected to put about 20 people to work in the first year of production. The company's all-in-one solar kit for a 2400 DC watt system uses patented, pre-engineered building integrated photovoltaic (BIPV) sloped roof design incorporating polycrystaline silicon solar cells.
The innovative siblings leading the 60-year-old family business created sister a company, LUMA Resources LLC, in 2007. The company's solar shingle systems are actually the roof and a solar energy generator at the same time, eliminating the need for frames and racks that are typical to most solar roof systems. President Robert Allen says because the LUMA system was first tested as a roof, it doesn't leak.
The brothers jumped at the opportunity to work with solar technologies as soon as it presented itself, Robert Allen says. The Recovery Act award from Michigan's State Energy Program, funded by through the U.S. Department of Energy's State Energy Program, made the move possible.
Creating products and jobs
Because the product was so unique, there were no existing standards by which to measure this type of BIPV. As a result, the testing phase product took longer than the brothers had hoped. But the Recovery Act award came to LUMA right when the company had finally wrapped up testing and was looking for a way to retrofit the unused area of its factory to ramp up production.
The Recovery Act gave the U.S. Department of Energy $3.1 billion in funding for grants to states under the State Energy Program. Michigan received $82 million from that funding, which the state has directed toward:
$39.4 million to reduce energy consumption in state-owned buildings
$39.3 million to facilitate energy efficiency in the private sector and drive supply chain diversification into renewable energy sectors, which includes the award to LUMA Resources
$3.3 million to create opportunities for wind energy in Michigan, including measuring potential locations for new wind farms
For more information on Michigan's State Energy Program, visit the Michigan Department of Energy, Labor & Economic Growth.
LUMA expects to begin selling its product to customers sometime in July 2010.
The demand and resulting increase in production of the new product has also lead to the hiring of Michigan residents at LUMA. The Allens will hire at least 20 manufacturing employees in the first year of production. As demand increases, they expect to hire for more positions in manufacturing and in areas such as sales, marketing, production management and quality control.
"Our assembly line is labor-intensive, and we deliberately kept it very hands-on," Allen says. "We could've made things more automated, but we decided that Michigan needs jobs and we can have a lot more control over the early manufacturing stages if we do things the old-fashioned way - by hand."
Allen says he's proud to have been recognized by his home state as the first solar company in the country to access clean energy manufacturing funding through the Recovery Act.
"We reinvented ourselves," he says. "We went from working within a hurting construction market in Michigan and went forward into manufacturing a clean energy economy product within our own industry."