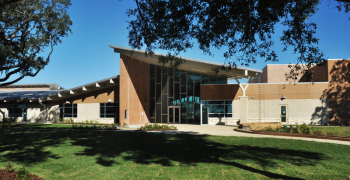 The back side of the Community Center in Largo, Florida.
The City of Largo, Florida is celebrating the opening of its new energy efficient Community Center that will help the city save money by saving energy. The 30,000 square foot facility will be a multi-generational gathering place, featuring Senior Citizen-friendly features and modern amenities to encouarge youth participation and long-term community use. The existing 20-year-old facility is only 18,500 square feet.
Recreational amenities aside, the new building has also been improved by the addition of a 72 kWh thin film solar photovoltaic (PV) paneled roof made possible by $450,000 of Energy Efficiency and Conservation Block Grant funding. The solar installation has enabled the city to generate the additional points needed to apply for LEED platinum status, which would make it Florida's first LEED platinum government building. The use of photovoltaic panels as a renewable energy source is new to Largo and this project will serve as a pilot for integrating such renewable energy systems into public buildings.
Preliminary estimates indicate that the PV array will provide a 20 percent reduction in electricity use. Additionally, any excess electricity generated during periods of low usage is sold back to the local utility, further cutting energy costs. By reducing the operational costs for the new facility, and receiving revenue or electricity credits for the excess solar power created, critical funds will be saved in the city's General Fund.
Stephanie Waters, Grant Administrator for the City of Largo, says "The City of Largo is known as the 'City of Progress' and with this help from the Department of Energy and the Recovery Act, we will continue to make progress in this century."