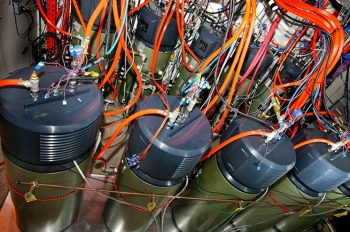 Pictured is Oak Ridge National Laboratory's water heating testing facility. Researchers estimate that 10 months of constant operation in its testing facility is comparable to 10 years of service life in a typical residential setting. | Photo courtesy of the Building Technologies Research and Integration Center, ORNL.
Imagine a home with windows that let in light but block the sun's heat. Or a highly efficient heating and cooling system that also provides a home with all its water heating needs while using no additional energy. Energy efficient products like these are no longer fantasies for homeowners thanks to breakthroughs at the Energy Department's National Labs.
As part of this year's R&D 100 awards -- often called the Oscars of Innovation -- two National Labs were recognized for breakthroughs that have the potential to help homeowners save money by saving energy. For homeowners and renters looking for additional ways to save money, check out our low-cost tips related to each innovation.
Super Energy-Efficient Windows 
Current energy-efficient window technologies are based on solar controls and low-emissivity coatings, but Lawrence Berkeley National Laboratory has found a new way to limit heat gain from windows. The Lab's Universal Smart Window Coating would allow occupants to independently control how much heat and light enters a home through its windows -- reducing the need for both air conditioning and artificial lighting.
The Universal Smart Window Coating achieves this control with an inexpensive nanocomposite electrochromic coating that should help keep costs down for consumers once the technology is commercialized.
Low-cost tip: Consider installing medium-colored draperies with white-plastic backings -- an improvement that could reduce heat gains by 33 percent -- and check out other energy-saving tips for windows.
Heating, Cooling and Water Heating System in One
Oak Ridge National Laboratory partnered with ClimateMaster -- a leading manufacturer of geothermal and water-source heat pumps -- to develop an appliance that provides space conditioning and all the water heating needs of a typical residence. The ClimateMaster Trilogy 40 Q-Mode Geothermal Heat Pump uses the earth as its heat source and absorber rather than outdoor air -- an advancement that helps homeowners reduce energy costs by up to 65 percent compared to conventional systems.
In addition to energy savings, the Trilogy 40 Q-Mode heat pump also provides environmental benefits by reducing peak electricity demand and cutting carbon pollution.
Low-cost tip: Clean or replace filters on furnaces and air conditioners to ensure your heating and cooling systems are running as efficiently as possible. Check out other heating and cooling tips, and our Energy Saver 101 infographic for everything you need to know about water heaters.
For more ways to save energy and money around the house, visit Energy Saver.