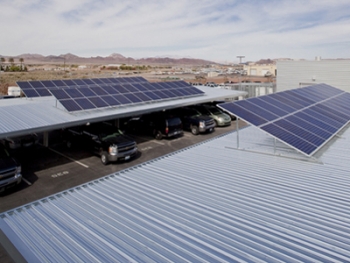 North Community Police Substation upgraded its solar energy system with the help of Recovery Act funds. The city's electric bill will be about $5,000 cheaper. | Courtesy of the City of Henderson
The Henderson, Nev., police department is going above and beyond the call of duty by tripling the size of its solar panel system on its LEED-certified station, saving the city thousands of dollars in energy costs.
With the help of an Energy Efficiency and Conservation Grant (EECBG) from the U.S. Department of Energy, the North Community Police Substation installed new, roof-top photovoltaic panels that provide almost 40 percent of the station's electricity, up from 12.5 percent.  The station now has a 90 kW PV system and will save between $4,000 and $6,000 a month in electric bills.
Mark Hobaica, the city architect from the public works and facilities management office, says the station always had the room to build upon the original 30 kW system, just not the money to buy and install additional panels.
"That is what's so great about the grant," Hobaica says. "When the DOE funding became available, it helped us expand the project to what we planned."
The 483 solar panels atop carport canopies will reduce the city's grid-power consumption by more than 168,000 kWh per year. The clean renewable energy will help the city reduce annual greenhouse gas emissions by an estimated 143 tons, which is equivalent to taking 30 cars off the road per year, according to EPA calculations.
Finished in 2009, the North Community Police Substation is the third and latest police station to be built in Henderson, an ever-growing town 12 miles outside of Las Vegas.
To accommodate Henderson's population surge in the last 10 years, the city increased the number of police officers and stations.  In 2000, 212 Henderson officers serviced a population of 187,000. Now, the town has 391 officers for about 277,000 citizens.
"If we are going to build a new facility for the town, it makes perfect sense to build a facility that will give us a return on our money," says Capt. Hector Mancillas a 20-year veteran with the Henderson police department.
The upgraded solar panel system joins a slew of other energy-efficient projects at the station that earned the city its first gold-level LEED certified building: low-flow toilets, skylights to reduce overhead lighting costs and the original 30 kW photovoltaic system.
The LEED Green Building Rating System is the nationally accepted benchmark for the design, construction and operation of high-performance, energy-efficient buildings.
"This is going to be a model for future stations," Mancillas says. "And we are hoping that within five to seven years we will be looking at another station just like this one."