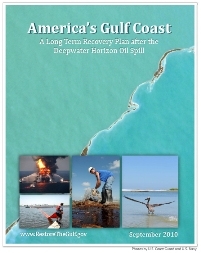 The Gulf Coast is a gate for commerce, producer of seafood, oil and natural gas, host to diverse ecosystems, home to millions and it's future is intertwined with the future of this Nation.
Our country has made a promise to the people and small businesses of the Gulf Coast to restore their environment, economy and health, and continue a conversation with the fisherman, environmental workers, elected officials, health officials, scientists and Gulf residents on how to restore the Gulf.
Those conversations and our promise to the Gulf are laid out in U.S. Navy Secretary Ray Mabus' report, which was released on Tuesday and presented to President Obama. Secretary Mabus' report calls for the establishment of a congressionally mandated Gulf Coast Restoration Task Force to coordinate the Federal, state and local actions that will be taken to restore the Gulf. The report also outlines recommendations in five areas, driven by concerns Secretary Mabus' team heard from Gulf residents:
Proposal to Congress to Dedicate Clean Water Act Civil Penalties to the Gulf Coast;
Long-Term Ecosystem Restoration;
Health and Human Services Recovery;
Economic Recovery and
Nonprofit Sector Recovery.
Throughout these five areas, the overarching focus of all recommended actions is making sure we at the federal level can cut red tape and support local strategies, rather than the other way around. Local residents and small businesses will drive decisions and planning and local hiring and local contracting are at the heart of the plan. President Obama reinforced this approach, stating that  this administration "will stand with the people of the Gulf to help restore, rehabilitate and revitalize the region. And, together, we will finish the job."
To read Secretary Mabus' plan in full visit restorethegulf.gov.