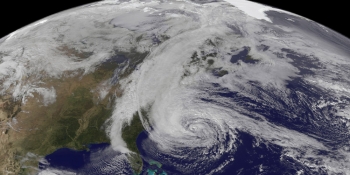 A hurricane over the Atlantic Ocean, as seen from space by a satellite. Storms like these are projected to become more frequent as the effects of climate change worsen. | Energy Department file photo.
Editor's note: This article originally appeared on WhiteHouse.gov.
The effects of climate change are already being felt across the nation. In the past three decades, the percentage of Americans with asthma has more than doubled, and climate change is putting those Americans at greater risk of landing in the hospital. The impacts of extreme weather events -- from more severe droughts and wildfires in the West, to more powerful hurricanes and record heat waves -- are hitting communities across the country. These changes come with far-reaching consequences and real economic costs.
At the same time, clean energy represents a significant economic opportunity, and we know we can meet this challenge in a way that advances our economy, our environment and public health at the same time.
That is why, on this day last year, President Obama announced his Climate Action Plan – a comprehensive plan to cut carbon pollution, prepare the United States for the impacts of climate change and lead international efforts to combat global climate change.
One year later, the Administration has made real progress in advancing the goals in the President's Climate Action Plan. The policies President Obama has put forward in just one year -- when implemented -- are expected to cut nearly 3 billion tons of carbon pollution between 2020 and 2025. That's an amount equivalent to taking more than 600 million cars off the road for a year.
And it doesn't stop there. We have increased our reliance on clean energy sources as we take steps to make our communities more resilient to the effects of severe weather, and we are working with other countries to reduce emissions of greenhouse gases internationally.
In the last year, some key initiatives the President has taken to combat climate change include:
Carbon pollution standards for power plants: In June 2014, EPA proposed common-sense carbon pollution standards for existing plants, which would protect the health of our children and put our nation on the path toward a 30 percent reduction in carbon pollution from the power sector by 2030.
 
Setting new energy efficiency standards: Cutting our energy waste remains one of the easiest and cheapest ways to combat climate change. That is why in the last year the Energy Department has issued nine proposed energy conservation standards for appliances and equipment and finalized eight energy conservation standards. In total, these final rules alone are expected to reduce carbon pollution by 340 million metric tons through 2030, with more reductions coming later once the proposals are finalized.
 
Strengthening building codes: In May 2014, DOE preliminarily affirmed the industry's latest commercial building energy code, which cuts up to 30 percent more energy waste than today's predominant state energy codes. The updated code will help states and the federal government save money and energy on building operations and cut emissions by 230 million metric tons of carbon pollution by 2030.
 
Developing heavy-duty engines and vehicles: In February 2014, President Obama directed EPA and the Transportation Department to develop and issue the next phase of fuel efficiency and greenhouse gas standards for medium- and heavy-duty vehicles by March 2016.
 
State, Local and Tribal Leaders Task Force: In November 2014, President Obama established the State, Local and Tribal Leaders Task Force on Climate Preparedness and Resilience, which is made up of 26 governors, county executives, mayors and tribal leaders whose task is to advise the Administration on how the federal government can respond to the needs of communities nationwide that are dealing with the impacts of climate change.
 
National Climate Assessment: In May 2014, the Administration released the Third U.S. National Climate Assessment (NCA), the most authoritative and comprehensive source of scientific information to date about climate change impacts across all U.S. regions and on critical sectors of the economy.
 
Leading internationally: The Administration has made substantial progress in implementing the President's announcement to end public U.S. financing for new conventional coal plants overseas, except in the poorest countries. Already, seven countries have announced that they would join the U.S. coal finance policy, including the United Kingdom, the five Nordic countries and the Netherlands. The World Bank, European Bank for Reconstruction and Development, and European Investment Bank all announced similar policies in the second half of 2013.
You can read more about our progress in this report. Through the Climate Action Plan, the U.S. has become a leader in climate change mitigation and preparedness, and our work is just the beginning. As we continue to combat climate change at home, we continue to lead a worldwide effort to prepare for a cleaner, healthier and safer future.