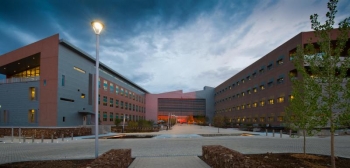 The 222,000 sq. ft. RSF has been recognized for its innovative construction and efficiency. | Courtesy of Dennis Schroeder, National Renewable Energy Laboratory staff photographer.
It's been a little over a year since the Energy Department's Research Support Facility (RSF) opened on the National Renewable Energy Laboratory (NREL) campus in Colorado. The innovative approach taken in the design and construction of the NREL corporate headquarters has already led to 24 local and international awards. This month, it received one of its most important distinctions: the Leadership in Energy and Environmental Design (LEED) Platinum Award for New Construction by the U.S. Green Building Council, a non-profit organization dedicated to sustainable building design and construction.
The RSF project achieved all their targeted 59 LEED points, including those for site selection, water efficiency, energy and atmosphere, materials and resources, indoor air quality and innovation. RSF was the top-scoring LEED project in Colorado and among the top 25 in the nation.
One of 35,000 projects in all 50 states and 91 countries participating in the LEED system, RSF comprises more than 4.5 billion square feet of construction space. The LEED Green Building Rating System is the preeminent program for rating the design, construction and operation of green buildings.
"Being classified in the top 25 out of 9,000 projects nationwide is an amazing achievement," said Jeff Baker, Laboratory Operations Office Director at the Department of Energy's Golden Field Office. "Through the combined talents of DOE, NREL and Haselden Construction, EERE has conclusively demonstrated that superior energy performance is achievable today."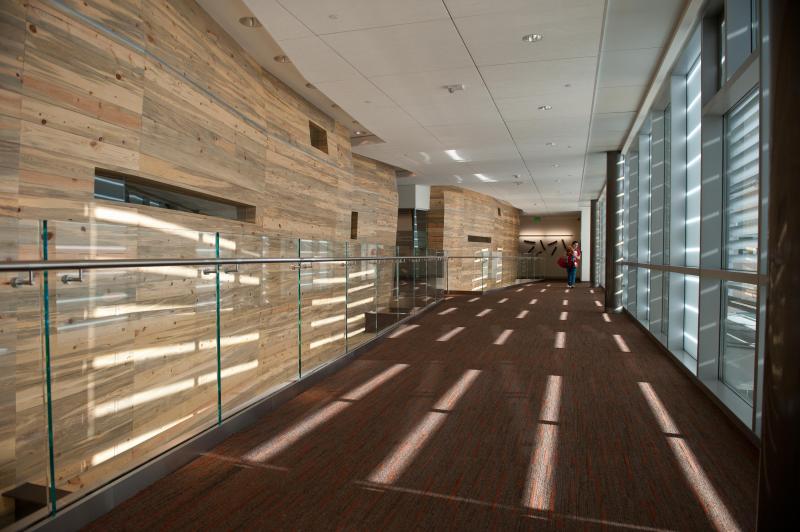 Many materials used in the RSF contain recycled content or come from within 500 miles of the site, including lobby walls made from pine beetle kill wood, counters made from sunflower seeds, and structural steel. | Courtesy of: Dennis Schroeder, NREL
An RSF expansion wing is scheduled to open around Halloween. Since architects and builders have incorporated lessons learned from the original RSF structure into this new wing, it is expected to be up to 17 percent more efficient.
Such successes are the reasons why the building has received national attention and garnered countless awards. More information on the RSF can be found on the NREL website dedicated to the ultra-energy efficient building at:  http://www.nrel.gov/news/rsfnews/.