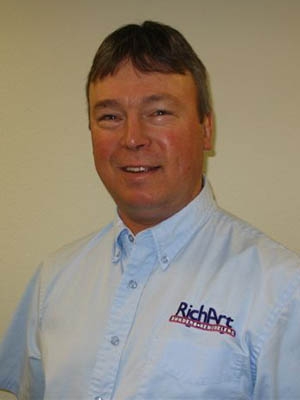 Mike Richart's company has witnessed a surge in weatherization business in the past year | Photo courtesy of Mike Richart
From improvements in technology to increased consumer demand on quality, Mike Richart has seen vast changes in the energy efficiency industry. With the onset of the American Recovery and Reinvestment Act-weatherization work has increased dramatically and as a result, Richart's company, Vancouver, Wash.-based Richart Family, Inc., has hired 25 new workers to meet demand. The Energy Blog spoke to Richart, about the Recovery Act, competition and ways residents can make their homes more energy efficient.
See our story on Clark College, where one of Richart Family, Inc.'s employees was trained.
Q: How has the energy efficiency industry changed recently?
A: Technology has played a big part in the change of recent years. In the 1980s, we were pioneering energy conservation with passive solar applications, super energy efficient homes that had R19 walls, R30 ceilings and floor insulation -- yes -- floor insulation.
Today, those standards won't even meet many building codes. Now, after years of trial and error, we have extensive experience that has exposed both positive and the negative results.
The industry has evolved into a highly technical trade that requires extensive training and proper installation to effectively reach the goals the industry was designed to achieve, saving energy.
Q: How has the Recovery Act changed the business?
A: As a veteran weatherization company, our perpetual battle in the marketplace has always been low pricing by low quality competitors. Contractors in the industry all know that everyone's material costs are relatively the same. Therefore, the only way low cost providers can offer such low pricing was by paying low wages to their workers.
Our company knows that we cannot achieve the quality we need to provide an effective installation without training workers and paying them good wages. If we don't, when the opportunity presented itself, they would leave for better paying jobs. It was a difficult business effort to balance cost with quality and still stay competitive.
Fortunately, the ARRA requirement to pay prevailing wages has changed that.
Competitors that would typically promote cheap prices at the expense of good quality cannot make it up by paying low wages. Now, everyone is judged on the quality they provide. We like that type of competition.
Q: How many workers have you hired to meet as a result of the Recovery Act?
A: When [Recovery Act] production requirements were first introduced, we entered in a cooperative effort with community organizations to hire and train 12 new dislocated workers. We implemented that process in December 2009.
We have grown from a company with 25 weatherization workers to a peak of about 70. The increase of 45 workers is the result of roughly 25 new workers and the relocation of another 20 workers from our construction division.
Without the increase of weatherization, our construction workers would be currently unemployed. Through ARRA, we have been able to provide training and job opportunities for these workers. Trust me, they are extremely thankful.
Q: What improvements does your team make on homes that are weatherized?
A: Our primary responsibility is to deliver the energy saving improvements to homes. We receive an in-depth analysis of each home from the awarding agency.
Once we receive the work order, we proceed to order materials and schedule crews to perform the work.
We work on mobile homes, single-family site built homes and multi-family homes. Each may receive one or more of the following improvements: attic insulation, floor insulation, wall insulation, duct insulation, door or window replacements, building envelope air sealing, and various health and safety improvements.
All work performed must meet certain cost effective guidelines and therefore some work, like windows, may not always qualify.
Q: What are simple steps residents can take to increase energy efficiency at their homes?
A: A resident can easily do some of the baseline improvements, like installing compact florescent fixtures, water flow restrictors and upgrading to more energy efficient appliances. The most beneficial thing a resident can do is to learn how the use of the home impacts the energy use.
It's like when you go camping and we give the home owners a nice insulated sleeping bag. Used properly, it will keep them warm through the night. But if they get it wet, leave the zipper open, or cause put a hole in it, it will not adequately perform.
A weatherized home functions the same. The industry has evolved into a science whereas a professional is required to make the home function at its optimum, like energy efficient cars. The user must use it properly and cannot abuse it and still expect it to work properly.
Just like sleeping bags and automobiles, poor operation equals poor performance.