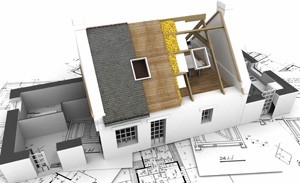 Metropolitan Energy Center helps Kansas City residents manage and control their energy use. | File illustration
To make her home energy efficient, the first thing Rita Norton had to do was "tighten the envelope."
That meant stuffing more insulation between her walls and sealing cracks at the foundation to keep any unwanted air from sneaking in or valuable air from seeping out.  "That's the phrase they call it," says the former school teacher who lives in a two-story cape cod in Kansas City, Mo.  
The advice came from the Metropolitan Energy Center (MEC), a nonprofit that helps Kansas City residents manage and control their energy use. When Rita called looking for direction, they were there to recommend certified contractors from their Kansas City Home Performance Network to do the tightening.
The Kansas City branch trains and certifies contractors under the Home Performance with ENERGY STAR program created by the Department of Energy and EPA to evaluate homes and recommend improvements that save homeowners money on their energy bills.
After Rita "tightened the envelope," her utility bill dropped by 35 percent in both the summer and winter.
Over the last six years, MEC has fielded more and more calls from residents like Rita who want energy audits and upgrades to their homes. The organization went from six contractors doing 150 jobs a year in 2003 to 53 contractors doing a 150 a month in 2010.
"Right now, homeowners are hungry for a good investment, and they want verifiable savings," says Dustin Jensen, associate executive director at MEC. 
Two utility companies, Kansas City Power & Light and Missouri Gas Energy, joined the Home Performance Network to offer rebates to residential customers who make energy efficient improvements to their homes.  For example, if a customer installs energy-efficient windows or insulation and tightens the house, they are eligible to receive money off their utility bills.
"The rebate program really got the ball rolling; it signaled that energy efficiency is a common vision among businesses," Dustin says. 
But like anything in the market, products must have consumer confidence, which Dustin believes was aided by the federal government's support for energy-efficiency projects.
"It is more important than the rebates. People are responding to this emphasis by civic leaders," he says. "Homeowners and businesses are willing to borrow money to fix their home or start a business because they trust that energy efficiency is only going to grow in importance."
Rita has since added 12 solar panels that produce 2.1 kWh of electricity to her roof, but she still considers the initial upgrades the most important.
"Cellulose insulation is the first thing I recommend to anyone who has a few thousand dollars," Rita says. "That has done more than any other single thing. It really made a huge difference."