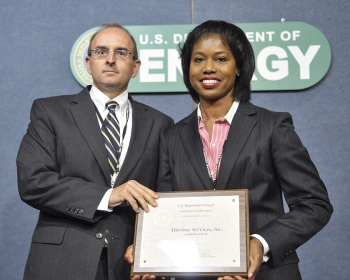 Shelton Clark, President of Eberline Services, receives the Small Business of the Year award from Dot Harris, Director of the Office of Economic Impact and Diversity. Eberline Services, a New Mexico-based small business, gets 90% of their business from the Energy Department. They specialize in radiological protection and environmental services. | Photo by Charles Watkins, DOE Photographer.
Small businesses play a major role in spurring innovation and creating jobs in the United States. Between 1993 and 2008, small businesses created 64 percent of all net new jobs, totaling 14.5 million new jobs. They also employ nearly 40 percent of the U.S. science and engineering workforce. With that in mind, it goes without saying that small businesses are critical to the Energy Department's work from solving energy, environmental and nuclear challenges to advancing transformational science and technologies.
Last week, the Department announced new funding to more than 100 small businesses nationwide through the Small Business Innovation Research (SBIR) and Small Business Technology Transfer (STTR) programs. These investments – totaling more than $102 million – are helping companies to continue developing promising technologies with a strong potential for commercialization and job creation.
Announcing these awards, Secretary Chu said, "Small businesses are the backbone of our economy, employing half of all workers in America and creating two out of three new jobs in the U.S. Bringing these innovative technologies to market is just the latest step in the Energy Department's efforts to support the critical role that small businesses are playing in creating jobs for American workers and expanding our country's clean energy economy."
We are unwavering in our commitments to increasing small business contracting across the Department and strengthening our investments in these companies. Over the past year, we have supported a total of $8 billion in prime and sub-prime contracting to small businesses across the country. These awards to more than 7,000 companies, including small businesses owned by women, veterans and minorities, have leveraged their unique skills, talents and experience to help the Department achieve its missions.
As part of this, the Department works closely with each of our Management & Operating (M&O) contractors, which run our national labs and other large nuclear and science facilities, to set aggressive small business subcontracting goals each year. This contributes to nearly 50 percent of the overall M&O procurement base, generating more than $6.7 billion in economic output from the previous year.
Just last week, I had the pleasure of recognizing our 2011 Small Business Award winners, including small businesses, program managers and other partners who have gone above and beyond expectations, demonstrating exceptional performance and creativity towards helping the Department achieve its missions.
Eberline Services, from Santa Fe, New Mexico, was awarded "Small Business of the Year," recognizing the company's achievements providing radiological protection, waste management and laboratory services to Energy Department sites and programs. At Los Alamos National Laboratory and Hanford, Eberline Services has offered cost savings while ensuring project success and strong safety performance. From Huntington, California, Performance Excellence Partners (PEP) was recognized with a "DOE Protégé of the Year" award. A small woman-owned business, PEP has leveraged best practices and lessons learned through the Department's Mentor-Protégé program since 2007 to expand into new work opportunites across the federal government. Now an experienced, independent contractor at multiple Department sites and programs, the company grew from 15 employees to more than 50 full-time workers over the past year.
While these all represent significant achievements, there is still a lot of work to do. At the Energy Department, we are committed to maximizing small business participation and contracting wherever possible and are continually working to identify new opportunities for American small businesses. Moreover, we have created a review team of experts focused on identifying future prime and subcontracting opportunities. We're also working with small businesses to guide them through the federal procurement process, including hosting business development roundtables and regional Small Business Summits across the country. Our Mentor-Protégé program pairs small businesses with prime contractors, creating long-lasting relationships for sharing best practices and identifying additional procurement opportunities.
For more information on the steps we're taking to support small businesses, visit the Office of Economic Impact and Diversity website.