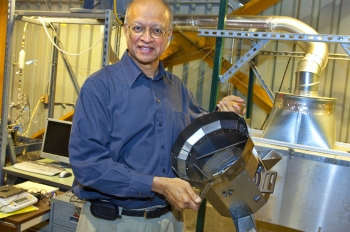 To reduce the amount of firewood Darfur refugees need, Berkeley Lab scientist Ashok Gadgil and colleagues modified an existing cookstove design to create one that is 75 percent more energy-efficient than the three-stone stove traditionally used in Darfur, and is appropriate to the environmental conditions and food preferences of the local inhabitants. | Photo courtesy of Lawrence Berkeley National Laboratory.
The technology to improve access to fuel, electricity and clean water for some of the world's poorest people may already be in the patent portfolios of the Energy Department's National Labs. The challenge, however, can be finding dedicated organizations willing to develop the technology and bring it to market, which can mean bringing energy technology to the most remote parts of the world. 
As part of President Obama's Global Development Policy, a new licensing agreement opens a number of Energy Department patents to qualified non-governmental and non-profit organizations. Just as was offered to innovative startups with America's Next Top Energy Innovator Challenge, selected organizations only pay an upfront fee of $2,000 and a royalty of up to 2 percent of gross sales of licensed products.
Through new technology, the goal is to accelerate progress toward improved health, energy sustainability and economic growth in some of the poorest countries in the world, many of which are in Asia and sub-Saharan Africa. Many organizations already have a presence in these countries educating populations, caring for the sick, and improving standards of living by advancing the technology used to perform their most rote and domestic of tasks, like how they cook their meals.  
In 2005, Lawrence Berkeley National Laboratory launched a pilot program providing Ethiopians with an inexpensive, durable cookstove. Like an estimated 3 billion people, or half the world's population, many Darfuri cook their meals over an open fire. The heaps of burning wood, dung and other biomass are too inefficient and dirty in a country where deforestation is rampant and respiratory disease from soot is on the rise.
With these specific needs in mind, researchers developed a cookstove that gets hotter more quickly with less fuel and produces less soot. Stemming from a partnership with Technology Innovation for Sustainable Societies, there are currently 20,000 Berkeley-Darfur Cookstoves distributed in the country. The same organization has also helped get stoves to nations facing similar challenges such as Ethiopia and Haiti. This cookstove project exists independent of the latest White House initiative, but showcases an important instance when the labs have opened their intellectual property to a non-profit organization.
Berkeley is also home to the newly created Institute of Globally Transformative Technologies to work with existing partners, such as the Technology Innovation for Sustainable Societies, to deploy more sustainable technology in the war on poverty.
As the Global Development Policy gears up, similar projects will emerge aiming to alleviate social, heath or environmental issue in some of the poorest communities in the world. There's a lot to consider when developing technology for a developing country, and red tape shouldn't be one of them.