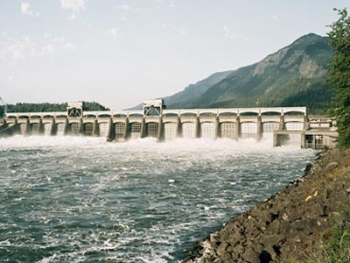 Voith Hydro installed machines at the Bonneville Dam on the Columbia River, located about 40 miles east of Portland, Ore., that are meant to save more fish. The next-generation machines at Ice Harbor will be even more advanced. | Photo Courtesy of Voith Hydro
Hydropower harnesses water power to create reliable, clean and plentiful renewable energy, but dams can have an unintended impact on wildlife --  fish swimming through turbines can get caught and die  -- which can be detrimental to the entire river ecosystem. The impact can be minimized, though, with new technologies being designed by engineers at Voith Hydro.
The York, Pennsylvania-based manufacturer of hydro turbine equipment was awarded a $10.9 million contract from U.S. Army Corps of Engineers (USACE) to design and supply two advanced turbine models to decrease the impact upon migrating fish at the Ice Harbor hydroelectric project on the Snake River in Washington. The contract is supported by a joint agreement between the Departments of Energy and Interior in early 2010 to invest in clean, renewable hydropower projects with fewer environmental impacts.
Minimizing Environmental Impact
"Our designs minimize the gaps between rotating and stationary parts where fish could get pinched," says Mark Garner, president and CEO at Voith Hydro. Voith has installed more than 40,000 generators and turbines worldwide.
The new designs being tested for the Ice Harbor project include two types of machines. The first, the Kaplan turbine, has adjustable blades and is fan-like, similar to the machine that propels a ship. The second turbine has nonadjustable blades that are fixed to a hub and looks like a propeller you'd expect to see on the front of a crop duster. Both new designs have fewer spaces where moving parts might sweep through and smash an unsuspecting river creature. After sufficient testing, Garner says all involved parties will collaborate to come up with the best solution.
This project could help save many of the 10 to 15 percent of salmon and steelhead on the Snake River that are killed by turbines when they migrate, according to the Northwest Power and Conservation Council. The USACE has reported mortality rates for fish on the Columbia River, which is located to the west of Snake River in neighboring Oregon, decrease from 5 to 10 percent to just below 5 percent on average since the last generation of fish-friendly Voith turbines were installed.
The next-generation fish-friendly units are expected to be in place at Ice Harbor by 2013.
Adding Oxygen to the Mix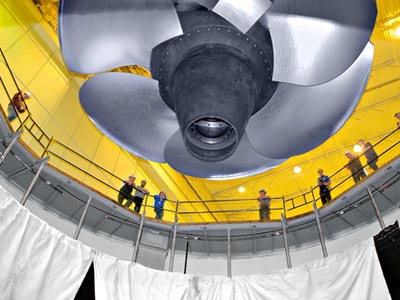 Voith Hydro is also working on other environmental issues associated with hydropower, such as the depletion of oxygen in water downstream from dams. In hot summer months, when water passing through dams is often drawn from upper reservoirs, water that's passed through the dam in that manner loses oxygen content and could disrupt the ecosystem. Voith Hydro has designed a turbine that draws oxygen back into water discharged at dams, increasing the quality of life for wildlife downstream. Garner sees projects such as these as a key part in responsibly developing hydropower in the United States.
90,000 MW Untapped
"Though we have 79,000 dams in this country, only 3 percent produce electricity right now. Although dams were built years ago for flood control, irrigation and navigation, now we want -- with minimal environmental impact -- to capture the power that's there," says Garner. "In some cases, 20 to 30 percent more power output could be gained with today's hydraulic design tools versus what was done 30 years ago, so there's huge potential to upgrade existing machines." There is 90,000 MW of untapped hydropower generation capacity in the country, according to the National Hydropower Association.
"We could double our current capacity without even building a new dam or doing anything to watersheds, and we could do it while still being responsible environmentally," Garner says.