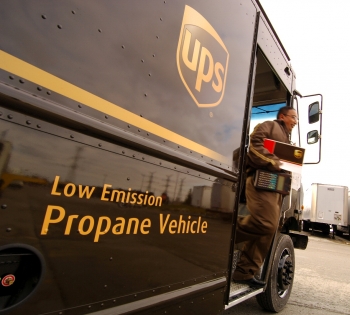 UPS is one of the Energy Department's National Clean Fleets Partners. The company is reducing petroleum use and emissions through careful route planning, fuel efficiency measures and alternative fuel use. | Photo courtesy of UPS.
Standing before company representatives at the forefront of sustainable commercial transportation, Secretary Chu today announced four new members of the National Clean Fleets Partnership at the Green Truck Summit in Indianapolis. The addition of the new partners – Best Buy, Pacific Gas and Electric Company, Veolia Environmental Services, and Johnson Controls – brings the total partnership to 18 corporate members, who operate more than a million vehicles nationwide.
The National Clean Fleets Partnership works to help large fleets reduce their use of gasoline and diesel by increasing their adoption of alternative fuels, advanced vehicles, and fuel-saving measures.  An initiative of the Energy Department's Clean Cities program, the Partnership continues Clean Cities' success in leveraging federal non-financial resources to support private sector efforts. 
Through the partnership, current members received technical assistance from the Department's National Renewable Energy Laboratory (NREL) in a variety of forms.  One of the biggest challenges for companies wishing to adopt alternative fuels, such as natural gas and propane, is ensuring that there are enough places for their vehicles to refuel. Working with a number of partners, NREL in support of Clean Cities is constructing a "hot-spot" map that will show where fleets operate enough vehicles to warrant building a new fueling station.  This collaboration allows members to pool their resources together in a way that they would be unlikely to without the Partnership.  In other cases, Clean Cities is connecting national partners with existing local resources. For example, one company is working with NREL to identify natural gas fueling stations already open in their current markets.  By reducing their need to build their own fueling stations, the Partnership helps companies reduce their use of petroleum and lower fuel costs, while supporting local suppliers. 
As each company's needs are different, Clean Cities helps them identify the right solutions for their fleet. Verizon is collaborating with the Partnership to collect operating data, which will help them better understand their current driving patterns.  Based on this information, the company can decide on the most effective measures to improve efficiency and reduce fuel use.  Similarly, other partners AT&T, Ryder, UPS, Enterprise Holdings, FedEx, GE, OSRAM SYLVANIA, PepsiCo, and Staples are using a variety of methods to reduce petroleum use, including route planning, electric vehicles, hybrid electric trucks, and idle reduction. 
For more information on how your business can get involved with either the Partnership or a Clean Cities coalition in your area, check out the National Clean Fleets Partnership site.