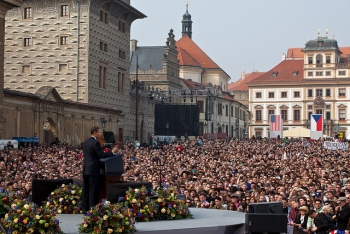 President Barack Obama delivers his first major speech stating a commitment to seek the peace and security of a world without nuclear weapons in front of thousands in Prague, Czech Republic, April 5, 2009. | Official White House Photo by Pete Souza
During his historic Prague speech in 2009, President Obama challenged the international community to create a world free from the threat of nuclear weapons. Nations took notice, and already we have seen great strides towards that goal. The United States and Russia signed and ratified the New START Treaty, and around the globe, 11 countries have removed all highly enriched uranium with the most recent, Vietnam, occurring just this last week. There have also been challenges, which is why we need to continue to bring scientific tools to bear on addressing this critical problem.
Last week in Vienna, I had the opportunity to visit one of the tools the world is using to work toward a nuclear weapons-free world. Along with my colleague and Ambassador to the United States Mission to International Organizations in Vienna, Joseph MacManus, I toured the Preparatory Commission for the Comprehensive Nuclear-Test-Ban Organization (CTBTO), an organization responsible for monitoring globally for underground testing of nuclear explosions. This state-of-the-art facility represents the global cooperation necessary to succeed at this important mission, and the Department of Energy plays an integral role in its success through our National Laboratories.
For example, Pacific Northwest National Laboratory (PNNL) is supporting projects that reinforce the effectiveness of the International Monitoring System, which utilizes 337 facilities worldwide to monitor for nuclear explosions. By serving as one of 16 CTBTO radionuclide laboratories, PNNL certifies the makeup of materials detected by the CTBTO sensors, a process the lab received an "A" grade for in a 2012 Proficiency Test Exercise. Additionally, the Idaho National Laboratory is recognized as a world leader in producing reference standards to calibrate noble gas measurements for the detection of nuclear explosions.
The labs are also critical partners in maintaining the 170 CTBTO seismic monitors. Lawrence Livermore, Los Alamos and Sandia National Laboratories are providing advanced seismic analysis methods to improve operator efficiency. This includes techniques that allow efficient, rapid, and accurate detection and location of repeating seismic events, with application to large aftershock sequences, as well as to general global monitoring.
Just last month in Berlin, President Obama reiterated his call to action for the world to move away from nuclear weapons and toward a peaceful nuclear future. While there is still much to do, I am pleased to see that from providing calibration of equipment to redesigning analysis software, the national labs are working to answer President Obama's call.