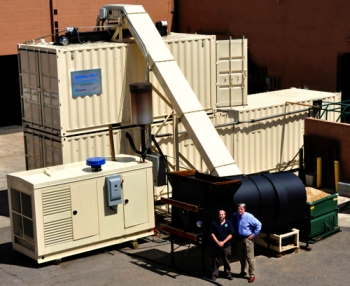 Community Power Corporation's modular biomass systems can generate up to 100 kilowatts of energy. | Courtesy of Community Power Corporation
Increased ethanol production will help revitalize the rural economy and decrease America's dependence on foreign oil, but there are other ways to create opportunities in the farmlands.
For Robb Walt, president of Community Power Corporation (CPC) in Littleton, Colo., one answer is community-scale, bio-energy service companies, or BESCOs.
The technology--portable machines that convert biomass and waste streams into clean gas to generate up to 100 kilowatts of power 24/7--enable community-based BESCOs to become local providers of renewable power, heat and syndiesel."We don't just need large scale bio-ethanol plants," says Walt, whose company developed a line of modular biomass systems. "We can also think on a smaller scale, where farmers of a community can add to their cash crops by supplying the residue of those crops or growing feedstocks for local, small-scale bio-energy systems that provide power, heat, and syndiesel for local consumption."
The BESCOs buy local biomass residues to generate and sell on-site clean, renewable energy services to community customers, such as schools, farms, government offices, manufacturing and service industries and utility companies.
"BESCOs allow people from the community to get involved with their own energy destiny and make money on it," Walt says. "This is a solution that can provide a new, local energy economy."
How does it work?
CPC's BioMax uses an environmentally-friendly gasification technology to convert a wide variety of biomass and paper, cardboard and some plastics to a clean syngas.  The syngas can then be converted into electricity, heat and "drop in" syndiesel for tractors, school buses, etc.
The machines are portable, mass producible, and have a footprint of 900 square feet, depending on the amount of energy generated, which ranges from 25kW to 100kW. By bunching multiple 100kW systems in one location, peak power capacities can reach 1 MW and beyond.
The U.S. military is working with CPC to develop and demonstrate BioMax and LiquiMax (syndiesel) systems that turn encampment waste into power, heat and fuel.
Building a new coconut based economy  
The company's first bio-power system made its debut in the small, rural community of Alaminos in the Philippines in 2001, as part of the Department of Energy's (DOE) Small Modular Biopower Initiative. Funded by the DOE and co-created with the National Renewable Energy Laboratory, the project was designed to bring power and jobs to a town using its greatest resource: coconuts.
CPC developed a 12.5 kW prototype system that used leftover coconut shells, which would have otherwise been burned, to power about 70 households. About 30 pounds of coconut shells were fed into the BioMax machine every hour to power the community.
The system had a ripple effect. Not only did it supply energy to households and enable residents to start businesses (one woman started a computer training class out of her house), but it also created a new local energy economy. CPC purchased shells for feedstock from the coconut farmers and then sold power to the community.
After two years, the town was connected to the utility grid, and the BioMax system was moved to a small, community-owned coconut oil mill, where it powered machines that turned waste fiber from coconut husks into erosion control mats that are sold in the Philippines and China.
What's next?
The company, which has 35 employees, is preparing to launch community-scale projects, deploying its BioMax systems to markets in the U.S., Canada, Indonesia and Europe.
For Colorado's mountain communities, CPC is exploring ways to form BESCOs that will use multiple systems to turn wood chips from beetle-killed pine trees into green power and heat. This will create jobs, mitigate the risk of fire and keep a higher percentage of expenditures for power in the local economy, Walt says.
 "Creating new, local bio-energy companies is a powerful way to move towards energy independence while strengthening the economy of our rural communities," Walt says.