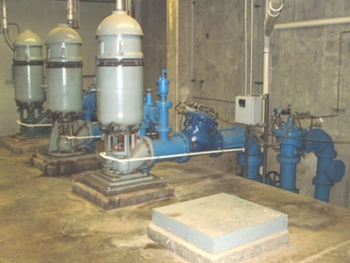 The high service pumps at the St. Peters Water Treatment Plant are almost 30 years old and will be replaced with premium efficiency motors. | Photo courtesy of Russ Batzel
The city of St. Peters, Mo. obtains its water from one of the best known rivers.
Eight pumps from underground wells in the Mississippi River floodplain send water to a lime-softening water treatment plant where it is prepared for drinking water purposes. But because the demand for clean water exists at all times, the plant consumes noticeably large amounts of money and energy.
So when the opportunity to make important energy efficient upgrades at the water treatment plant became available, the city did not shy away. Public works director Russ Batzel applied for and received a $91,500 Energy Efficiency and Conservation Block Grant (EECBG) for the city to install a water reservoir pump at the facility and replace seven pump motors with premium efficiency motors on the high service and backwash pumping systems.
The money for the project comes from the Missouri Department of Natural Resources grant through the American Recovery and Reinvestment Act and the "Energize Missouri Communities" program, which will cover 56 percent of the estimated $164,000 upgrade costs.
Replacing seven of the 30-year old pump motors and installing a new water transfer pump is expected to save the city $19,000 per year and 420,000 kWh per year. The payback for upgrades to the water treatment plant is eight years. The motors each have a lifespan of 20 to 30 years.
Batzel says that the water treatment plant, which produces 5 million gallons of water a day, is a critical part of daily life for St. Peters residents.
"The water treatment plant is our primary water supply and we rely on it to serve our needs," he says. "But because it is in operation 24/7 distributing water to the city, it runs on a lot of electricity."
An accelerated process
Batzel says that – among the many benefits of the EECBG program – expediting the upgrade process at the water treatment plant is perhaps one of the most significant.
"We just completed an energy management workshop with the EPA on municipal water systems and this was one of the projects we identified," he says. "Usually we would wait until the motors have exhausted their lifespan but this grant was an opportunity to invest and get the project done sooner rather than later."
A bid for local contractors is scheduled for next month and installations are set to take to take place late this fall. Batzel says he hopes to have the new pump motors and water reservoir pump running by December.