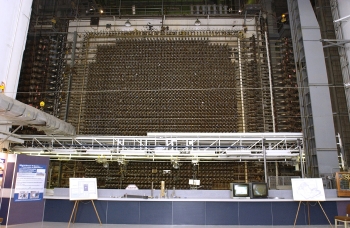 Hanford makes a Seattle list of best places to visit in the Northwest. | Energy Department Photo
The B Reactor National Historic Landmark tour and the Hanford Site cleanup tour in Washington State are getting a positive reaction from Seattle Met magazine. The publication added the historical tours to its list of best places to visit in the Northwest.
Tens of thousands of visitors from every state and more than 48 countries have toured B Reactor, the world's first full-scale plutonium production reactor. This firsthand view of history, science and the scale of the reactor provide guests with a scope of the enormous intellectual and physical collaboration known as the Manhattan Project.
Hanford sits on 586-square-miles of shrub-steppe desert in the Evergreen State. It began operations in 1943, and stopped producing plutonium for nuclear weapons in 1987. Since 1989, the site has been dedicated to environmental cleanup and the safe disposal of nuclear waste. Work will be complete on about 210 square miles of the site by 2015, paving the way for future uses such as recreation, heritage tourism, industrial development and cultural activities by area Tribal nations.
Recently, the Energy Department contractors fully cleaned up Hanford's F Reactor Area.  The reactor was the third of Hanford's nine plutonium production reactors built along the Columbia River to produce plutonium for the nation's defense program during World War II and the Cold War. Six of those reactors have been sealed up or cocooned. The F Reactor Area is the first to have all of its associated buildings and waste sites cleaned up in addition to having its reactor sealed up. This progress substantially reduces risk to the Columbia River Corridor, which is Hanford's largest environmental cleanup closure project.
B Reactor tours continue to fill up quickly, and visitors will continue to learn about Hanford's compelling history and what public access might look like in the future.