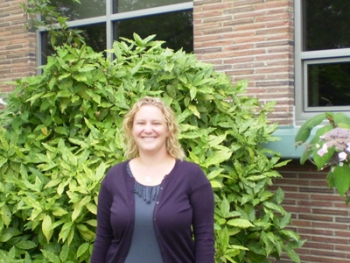 An Energy Department grant funded Autumn Salamack's new job as resource conservation manager for Kitsap County, Washington, and the energy efficient windows framed behind her. | Photo courtesy of Kitsap County, WA |
Autumn Salamack's career moved in a welcome new direction when she became the resource conservation manager for Kitsap County, Washington, in April.  A $2.2 million Department of Energy grant funded her position and numerous county energy conservation projects.
The sustainability veteran who once worked in water conservation, habitat restoration and zero waste initiatives now spends her days managing six Energy Efficiency and Conservation Block Grant projects.  They range from lighting and window retrofits in county buildings to a loan loss reserve fund that will improve homeowner access to lower interest rate energy efficiency loans. 
"It's not a fad," she says of the sector.  "It's an area that's going to get continual attention for a long time.  For me professionally it really made sense to hone in on energy efficiency because that's a key component of any sustainability program in the future."
Both the public and private sectors are investing heavily in the field.  In fact, Puget Sound Energy, the local utility, pays a percentage of the typical resource conservation manager salary as a cash incentive to help qualifying organizations, including Kitsap, increase efficiency. 
The company even provides a salary guarantee that resource bill savings will exceed the resource conservation manager's salary or the utility will pay the difference.  Talk about performance-based pay. 
"It's in the utility company's best interest to have us use less energy," Salamack explains.  "It helps them save in the long run if they don't have to go out and build more capacity to meet rising energy demand.  That's why they have a strong energy conservation program that offers rebates for people to get energy audits, weatherize and use efficient appliances."
To help Kitsap hit its targets, Salamack's reconvening a defunct energy conservation committee to draft an energy efficiency and conservation plan for the county.  The group will comprise 14 people including citizens and county representatives from the parks, facilities, sheriff, public works, information services, finance and personnel departments.
"I really see this plan being a road map for us that will give us some reachable and tangible goals along with a strategy for how to implement activities on our own or to have projects lined up for future funding opportunities," she explains.  "It will allow us to get a firm handle across the county on what our energy use and expenditures are, and identify opportunities for efficiencies."
But that's not all.  "The most exciting aspect is the opportunity for the county to be local leaders in developing a green economy as we get money out to contractors in the area and identify ways to save the county money," she says.