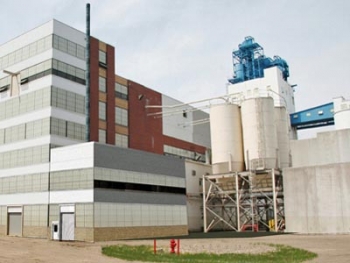 General Mills is developing a biomass steam boiler at its Fridley, Minn., plant. | Photo courtesy of General Mills
General Mills is a well-known name to anyone who has gone to a grocery store. But what you might not know is that the delicious Cheerios you nosh on may soon be made using a unique form of renewable energy. The company is deploying its first on-site biomass steam boiler at its milling plant in Fridley, Minn., where it produces oat flour for its signature cereals, including Lucky Charms.
The boiler is scheduled to be up-and-running early next year and will burn the plant's leftover oat hulls. Before oats make their way into your food, they are dehulled. The dense center of the plant is usually processed for food while the outer hull is removed, and in this case, used for fuel.
The new boiler will replace a natural-gas boiler, making the mill partially self-sustaining, in addition to cutting its carbon footprint by 21 percent by reducing carbon emissions — because the hulls release the same carbon they absorbed from the atmosphere as plants, the process is essentially carbon neutral. Oats can be grown again and again, and the hulls have 80 percent of the energy of coal without the harmful effects on the environment.
"General Mills is committed to reducing our environment footprint in areas like water, solid waste, energy and greenhouse gas emissions," Gregg Stedronsky, General Mills vice president for engineering, says. "That's good for the planet, and good for our business."
Energy produced from the burning of oat hulls will be enough to produce 90 percent of the steam needed for heating the Fridley plant and making oat flour, and that only takes 12 percent of the leftover hulls. General Mills' remaining oat hulls are sold to the Koda facility, which is a partnership between the Shakopee Mdewakanton Sioux Community and Rahr Malting Co. This facility creates enough energy to power 30,000 homes in Shakopee, Minn. General Mills supplies about a third of Koda facility's fuel needs.
The biomass boiler project will help the milling plant save more than $500,000 in natural gas costs every year.
While the Fridley project is General Mills' first on-site biomass endeavor, the company plans to evaluate using more renewable energy solutions in the future. It already uses wind power at some overseas locations and has started reducing the materials it uses in packaging. A recent computer-based transportation system has helped the company save on gasoline costs.