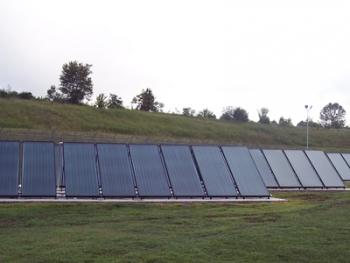 An array of solar collectors | Photo courtesy of Trane
Hot water demand soars at the six-building Knox County Detention Facility in Tennessee. It's open 24/7 with 1,036 inmate beds and 4,500 meals served daily—and don't forget the laundry.
Naturally, county officials sought an alternative to costly water heating.  Their solution:  a $1.88 million solar thermal system, among the largest of 100 line items in the county's $16.2 million performance contract with Trane, a heating and air solutions provider.
Funded through the U.S. Department of Energy's Energy Efficiency and Conservation Block Grant program, the solar farm directly produces and stores nearly 14,000 gallons of hot water a day.  That's roughly 80 percent of the facility's daily peak hot water demand.  If all goes well, the county's natural gas bill should drop by $60,000 a year and carbon dioxide emissions by 174 tons annually.
"We are doing great things to conserve energy, use renewable energy and we're saving money while we're doing it," says Captain Tom Buhl of the Knox County Sheriff's Department.  "What we do today has a lasting effect on children tomorrow.  We don't need to use up what they are going to need in fossil fuels or spend too much and make them pay for it."
Safety
While the logic behind the investment in solar thermal was straightforward, the logistics of pulling off a large installation in a restricted environment were trickier.  Indeed, the planning and engineering time took considerably longer than a typical commercial project. 
"Putting up 300 panels on a complex in a way that didn't give anybody an escape route was challenging on their end and ours," Buhl says.  "We did a lot of walking, pointing, looking, arranging and rearranging to create a functional system that's going to do what we want it to do -- but also be a safe facility for staff and inmates."
Installation
Engineering and development for the solar farm began in 2009 followed by job site labor in June of 2010.  Project completion is expected by the end of September.
"Really, really good planning on the front end made for a trouble-free installation," says Owen Nevader, comprehensive solutions leader for Trane in East Tennessee. 
"We carefully coordinated our installation efforts based on their security needs, notes Nevader. "All installations went through a detailed approval process. We also ensured that the solar installation would not interfere with their line of sight or their cameras."
All told, the project comprises 6,000 feet of copper pipe, 300 solar collectors, 65 concrete pads and five storage tanks.  And although there's no official count of jobs created, Trane added five professional positions in Knoxville and about 35 different craftspeople from plumbers to insulators have touched the job. 
Solar provider FLS Energy finalized the design, procured materials and handled installation under Trane's supervision.  The panels were manufactured by Alternate Energy Technologies in Jacksonville, Fla.  All of the pipes, fittings and specialty items were competitively bid out in Knoxville and furnished on site.