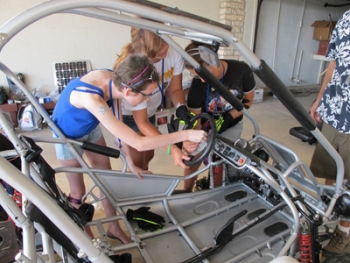 Campers at Camp Discovery put the finishing touches on a newly assembled electric vehicle they built to learn more about EV technology while sharing their experiences with battling cancer. | Photo courtesy of Craig Egan
Each year, about 150 kids gather during the summer at Camp Discovery in Kerrville, Texas, to learn new things and have fun. But this isn't an ordinary summer camp — the attendees, ages seven to 16, all have been diagnosed with cancer. During the course of a week, campers get a great learning experience, but they also have the opportunity to talk about their experiences with other people who share the burden of their illness.
For Craig Egan, Camp Discovery has a personal connection — he's a cancer survivor. After attending some events associated with the camp last year, Egan, who is president of engineering consulting firm ACE Technologies, felt compelled to get involved.
"Normally, the campers try arts-and-crafts projects that they auction off at some of the galas in the city," he says. "Last year, they built a coffee table, but this year, I wanted to help them build an electric car."
Egan is part of the San Antonio chapter of the Electric Auto Association, and he decided to get some of the club's members more involved in a hands-on project.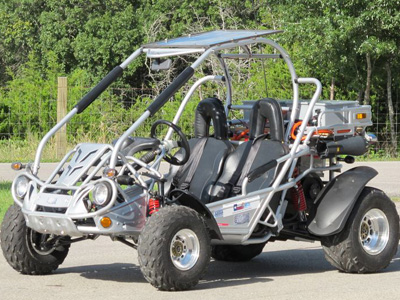 This electric vehicle was designed as a kit from an ATV chassis by Craig Egan of ACE Technologies, then assembled by children at Camp Discovery, an annual event hosted by the American Cancer Society for young people diagnosed with the illness. | Photo courtesy of Craig Egan
"We're passionate about EVs, so this idea was a perfect fit," he says. "EVs are good for the environment, and children are the engineers of the future, so we got excited and went out door-to-door to raise money for this project ourselves."
With about 20 sponsors, the group was able to raise the $14,000 needed to buy all the necessary parts for creating an electric vehicle kit.
"It was really great," Egan says. "The kids had no idea they'd be building something like an EV this year, and they were very enthusiastic and amazed that they were able to accomplish this and learn so much about new technology."
Things went so well that Egan says the most difficult part of the project was that, understandably, all 150 kids wanted to drive the electric vehicle.
'One-of-a-kind' EV in a day
The campers, with help from adults, constructed the buggy-style vehicle from a kit Egan's team designed, all based around an ATV.
"We started with an ATV chassis, so it's a large, open-framed vehicle that had a gas engine we tore out and sold for money to help with the rest of it," he says. "EVs are very simple, so it's an AC drive motor with lithium batteries — the tech in this car is equivalent to what you'd see in a Nissan LEAF or a Chevy Volt. It has all the technologies of a modern-day EV, just on a smaller scale."
On the vehicle's roof, the team installed a flexible solar panel to give the vehicle an extra power boost, but the car is charged primarily by plugging it in a household outlet. Because the vehicle was custom engineered and designed as a kit, the Camp Discovery kids were able to assemble it in one day. The car has a range of about 40 miles and can travel at a top speed of 50 miles per hour.
Now, the car is having art designed by the campers applied to its exterior, and it will go up for auction in October at the annual Cattle Baron's Gala where it will sell to the highest bidder with proceeds going back to the American Cancer Society for next year's Camp Discovery.
"We have several folks already interested, so we're excited to see what price it will get," Egan says. "It's one-of-a-kind; you won't find one of these at your local dealer."
The big picture, though, is sharing the future of transportation with the coming generation of drivers, he says, likening the transition from gasoline to electric cars to the switch from cassettes to CDs. "The kids understand that electric vehicles are coming, and many of them are more aware of and open to technology than adults. Kids have the biggest mouths, so they spread the word more than adults about the environmental and other benefits of going electric."
Camp Discovery 2010 was sponsored by the American Cancer Society, and the Alamo Area Clean Cities Coalition helped sponsor the EV project. The coalition is one of about 90 volunteer groups across the country participating in Clean Cities, a partnership dedicated to helping the U.S. Department Energy's Vehicle Technologies Program advance cleaner transportation, such as electric vehicles.