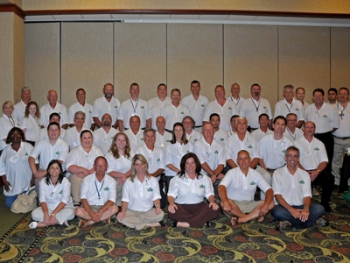 Kentucky's School Energy Managers pose for a photo during an orientation session. | Photo courtesy of Chris Wooten, Kentucky Pollution Prevention Center
In what could potentially be the first program of its scale, Kentucky has hired a new green team of 35 energy managers.
Kentucky's School Energy Managers Project (SEMP) will implement energy solutions for 1,000 schools throughout 130 districts in the Bluegrass State – with the goal of saving millions of dollars that can be funneled back to the education system. The project is potentially the first large-scale school energy managers program in the United States.
"Most districts have never had a person who has this as 100 percent of their responsibility," says Ron Willhite of the Kentucky School Boards Association (KSBA).  "Now we have people with the time to look at ways to save energy."
 
SEMP, developed by the Kentucky Department for Energy Development and Independence (DEDI) and KSBA, is partially financed by a $5 million State Energy Program grant through the American Recovery and Reinvestment Act.
 
Hundreds of candidates for 35 hires
The opportunities to be part of this program proved popular. So popular that nearly 900 candidates applied for the 35 manager slots, giving officials the ability to choose a highly qualified and diverse team.
"Lots of folks [hired] have engineering degrees and some finance," Willhite says. "We far exceeded our expectations of who we were able to hire."
 
The new managers were not left to create this new program on their own. Managers were trained last month in Lexington in techniques and resources to reduce energy use in schools. "Over three days we had a pretty intensive training session for the energy managers so they were charged up and ready to go to work," Willhite says.
During the training, managers even received a lesson from the corporate world.  "A Toyota Manufacturing Plant energy manager talked about the process of integrating energy savings," Willhite says.
Creating long-lasting networks among the 35 energy managers was also important. Networks were developed with fellow managers to help share ideas on energy efficiency.  Since many districts are small, some managers will oversee several districts. "The concept of the model is to let neighboring districts share energy managers," Willhite explains.
Charged with changing the culture
Armed with new skills, the managers will begin their mission of reining in school energy costs. And that means creating a baseline. "[First,] they'll come out and do assessments," says Greg Guess, DEDI's director of efficiency and conservation.
 
Depending on the school's needs, managers will oversee projects ranging from lighting retrofits to establishing new operating procedures. 
The managers are the key to changing the energy culture within school districts, says Willhite, SEMP's director. "They will help the school districts focus on energy efficiency."
And that also means many of the managers' responsibilities will be tied to changing energy behaviors at the school.
Saving through the School Energy Managers Project (SEMP)
• In fiscal year 2008, Kentucky schools spent $142 million on powering facilities. DEDI estimates if these costs are cut by 10 percent through measures suggested by energy managers, schools could save more than $14 million a year.
• SEMP is based on a pilot program Kentucky started in 2006. Kenton and Bullitt counties saved hundreds of thousands of dollars in total energy costs.
• Recovery Act covers up to 77 percent of the managers' salary and benefits during the first year of the program and 50 percent during the second year. Remaining costs are shared by the school districts
• Program consists of 29 total lead agencies: 28 school districts and the Green River Regional Education Cooperative
For more Kentucky's Recovery Act-funded energy programs, read DEDI's Energy at Work monthly newsletter.
Willhite says simple tasks such as "explaining what the benefit is in setting thermostats at more appropriate levels," can go a long way towards achieving big savings. "What they are doing is pointing [energy wasting behavior] out to people, what the costs are and pointing out alternatives," Guess says.
The energy managers are getting help. Kentucky Pollution Prevention Center at the University of Louisville has developed a program to assist managers in their day-to-day work. The Kentucky Energy Efficiency Program for Schools (KEEPS) provides engineers and program coordinators that offer managers technical assistance.
"They will be there to support them and to provide expertise," Guess says.
 
KEEPS coordinators help managers with additional training. The program, funded through the Recovery Act, provides web-based toolkits on energy management.
 
In addition, managers will receive support from two of Kentucky's existing school energy initiatives.
 
"The Recovery Act allowed us to fund KEEPS and SEMP and pull in our Green and Healthy Schools program and NEED (National Energy Education Development) Project," Guess says.
 
Officials hope the SEMP program not only helps school districts save money but also encourages students to learn about energy efficiency.
"As they learn these types of behaviors, they will take these things home. This is a long term benefit of what we are trying to achieve," Willhite says. "We are really pleased with where we are headed."