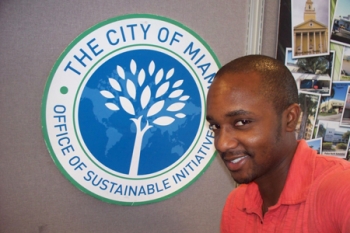 Ajani Stewart was close to losing his job as environmental coordinator for the city of Miami before a change to the city's EECBG allowed Stewart to retain his position. | Photo courtesy Ajani Stewart
Ajani Stewart loves his job.
As Environmental Coordinator for the Office of Sustainable Initiatives in Miami, Stewart manages projects funded by a $4.7 million Energy Efficiency and Conservation Block Grant (EECBG), as well as the city's green initiatives and recycling programs.
But when a drastic decline of real estate tax revenue prompted by the economic recession started a city-wide budget crisis last year, Stewart was on the verge of being laid off as the city contemplated difficult choices in an attempt to balance the budget. Had nothing been done, Stewart's layoff would have likely come last September.
"If I was not here, I cannot imagine that our downsized department would have had enough personnel with the required expertise to complete these projects and also successfully manage our other programs and initiatives," he says.
Stewart and his directors took action to make sure the city's initiatives were not derailed. After working closely with his directors, U.S. Department of Energy and officials from the National Renewable Energy Laboratory's Golden Field Office on modifying the city's EECBG application to fund his position, Stewart was able to retain his position as Environmental Coordinator and continue the projects already underway.
Today, Stewart continues to manage the implementation of Miami's two EECBG-funded projects. One of these projects is the Miami Green Lab, a community resource center fully constructed using green building techniques that will provide education and training on green jobs. In 2008, the Home Depot Foundation donated $750,000 for the renovation of Green Lab.
In addition, Stewart is in charge of overseeing the city's contracting arrangements with private energy service companies (ESCOs) that will be utilized to perform energy-efficiency audits and retrofits of city-owned buildings. The retrofits will lower city-wide energy consumption and greenhouse gas emissions and, accordingly, operation costs and utility bills.
"I think many of the city's initiatives – especially the two EECBG projects – will result in a trickle-down effect for jobs," he says. "Completing the grant projects may even eventually allow the city to hire even more people who may not currently have the opportunity to work."