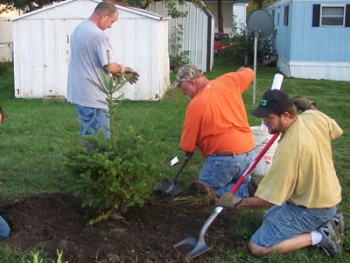 Volunteers from the Waverly Trees Forever group are planting windbreak trees on the north side of the mobile home court. Waverly experienced record flooding in 2008. | Photo Courtesy of Trees Forever
In 2008, flooding and tornados tore across Iowa, devastating communities and natural landscapes across the state.
More than 30 percent of the trees in Parkersburg, a small town hit hard by the tornado, were displaced and destroyed.
"When a community loses all that green on top of all the devastation, it's a real loss," says Meredith Borchardt, who works with Trees Forever, a non-profit based in Marion that works to develop sustainable tree planting programs across the state. Trees Forever is working with communities to maximize energy savings and carbon sequestration through strategic tree-planting.
"We're working cooperatively with volunteers to regreen these communities," says Borchardt. "By replanting in these communities, we're not only offering them energy savings, the regreening helps with the process of getting back to normal, back to the way the community used to look."
Recovery Act brings more than green bills
Using nearly $160,000 in Recovery Act funding through the State Energy Program and more than $725,000 through collaboration and partnerships—including the Iowa Power Fund—Trees Forever has increased their tree-planting efforts through a new project: trEE-O2.
Project trEE-O2—with a capital "EE" to stand for energy efficiency and O2 to represent cutting down on carbon dioxide—is a sustainable tree planting program that strategically plants trees to help with energy efficiency and reducing carbon dioxide sequestering.  
trEE-O2 will reach Parkersburg and nine other communities in Iowa ranging in population from under 1,000 to the second most populated city in Iowa, Cedar Rapids.
Aesthetically pleasing and energy saving
trEE-O2 will focus on two different types of projects in the state: wind breaks and large shade trees.  "Wind break trees divert a portion of cold winds up and over a building structure, slowing wind speed down by roughly 50 percent," says Borchardt. "That's a lot less cold air infiltrating into homes and public buildings. It's a very practical and common sense way to cut heating bills in the winter and can save between 10 and 15 percent on heating costs."
Large shade trees are planted in strategic locations around structures to provide summer shading, particularly on the west and east sides of buildings. These trees—which include oak or maple—can save up to 30 percent in summer cooling costs when widely casting their shade.
Some trees were planted this year, with many more to follow next year, primarily during the major fall and spring planting seasons. Borchardt hopes that 750 trees will be planted each season.
"We have a really ambitious goal of 2,500 trees total," says Borchardt. "Each townis  recovering at a different pace, so the number of trees and planting schedule varies from place to place."
In order to help local businesses, Borchardt explains Trees Forever encourages volunteers to purchase the trees from local nurseries in or near the community.
Volunteers foster community and growth
Once planted, it's essential to monitor the trees' growth and development, which is where training volunteers comes in. Project trEE-O2 has been doing awareness and outreach through city councils, school and youth groups. Ideally, Borchardt says that these involved volunteers will continue to strengthen the tree groups in their community and educate others on the benefits of trees while caring for and monitoring tree growth and development.
"People are beginning to realize that trees are a lot more than just a pretty addition to your yard or school. They can work for you and provide great benefits," says Borchardt.