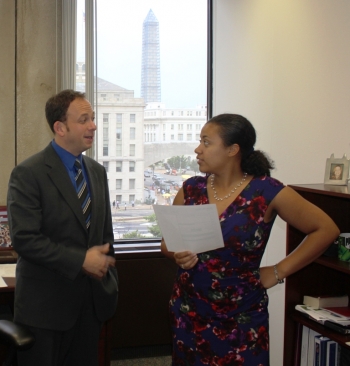 EM Office of External Affairs Acting Communications Director Dave Borak talks with EM intern Valerie Edwards. | Photo courtesy of the Energy Department.
This week, Energy.gov is heading back to school. We'll be featuring stories on the role students and schools play in driving America's energy economy -- from installing solar in the classroom to advancing innovations as interns at the National Labs. Stay up to date on our back-to-school week series by checking in with us everyday on Energy.gov, Twitter, Facebook and Google+.
This summer, more than 35 college students worked to advance the Energy Department's mission as part of an internship program designed to train future energy leaders. We sat down with one of the interns, Valerie Edwards, to hear about her experience working in the Office of Environmental Management and how the knowledge she gained will impact her career. For more on Valerie's internship, check out this blog post.
Question: Why were you interested in working at the Office of Environmental Management (EM)?
Valerie Edwards: I've always been interested in learning about environmental management and the role the Energy Department plays. When I applied for the internship, I knew I wanted to work in EM. As a mass communications major at Elizabeth City State University, I was specifically interested in working in EM's communications office to gain hands-on experience that I could use in my future career.
Q: What was your favorite project you worked on?
VE: My favorite projects were the news flashes and interviews with former EM Assistant Secretaries. Working on the news flashes -- EM's news stories on the Cold War cleanup -- allowed me to take my writing to another level. The EM communications team provided feedback that helped improve my writing skills. As part of the former EM Assistant Secretary profiles, I learned a wealth of knowledge about the importance of the Energy Department, the progress that EM has made in cleaning up nuclear waste from the Cold War and EM's many contributions to our nation.
Q: What did you learn from your internship?
VE: One of the most valuable things I learned from my internship is how a communications office works. Working in EM's Office of External Affairs, I helped develop story ideas, interview key players and write the stories. Along the way, there are many deadlines that need to be met and procedures for getting the stories approved.
Q: How will your internship impact the rest of your education and career?
VE: I will leave the Energy Department more confident in myself. When I first started interviewing past and present EM employees, I was timid and nervous that I would make mistakes. The EM communications team helped coach me through this, and now I feel as if I could interview the President without hesitation. Along with the writing skills that I developed working on news flashes, I'll be able to take my interview skills back to Elizabeth City State University and apply it to my education.