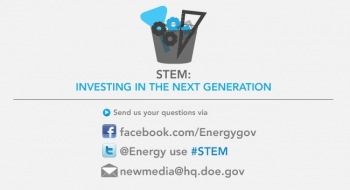 Join Michelle Fox on Twitter this Thursday at 4:00pm for a Tweet-up about STEM investments in education and the workforce.
This Thursday, at 4:00pm EDT, we'll be answering questions about how the Energy Department can continue to invest in STEM (science, education, technology and math) education in a Tweet-up with Michelle Fox – the Office of Energy Efficiency and Renewable Energy's Chief Strategist for Workforce and Education.
These investments aren't just for the future generation of workers but for the current workforce, too. That's why we're working on both foundational achievements to help fill in the gaps in the energy workforce and education space. This refers to what students know and how they're trained when it comes to energy, as well as more technology-specific workforce-related activities.
For example, the Energy Department led the creation of the first ever Energy Literacy Guidelines, which offers an interdisciplinary approach to energy concepts that will help individuals and communities make informed energy decisions. It can be used for all ages in a number of applications – such as formal or informal energy education, standards development, curriculum design, assessment development and educator training. Based on these guidelines, we are also working with universities and community colleges to develop a model Energy 101 course that they can use as a foundation to shape their own courses. 
In addition, the Energy Department created the National Training and Education Resource as an open source platform for training and education, to offer both training and a distribution center for courses and content for government, universities, and the private sector. This allows any entity to teach and train and use advanced technology to help people create more compelling education and training in energy or in other fields. 
These are just two examples of how the Energy Department is investing in STEM education – working to out-innovate and out-educate the world. So send us your questions at newmedia@hq.doe.gov, tweet to us at Twitter.com/energy using the hashtag #STEM, or submit them on Facebook at Facebook.com/energygov.
Q&A
What do you want to know about the Energy Department's work in STEM investment?
Ask Us