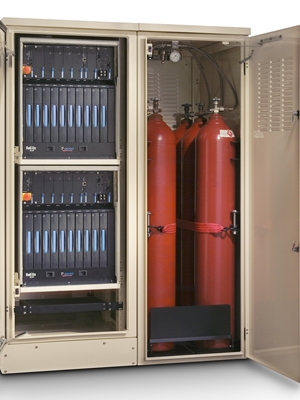 Sprint Nextel Corp. is deploying new fuel cells - such as these from ReliOn - to sites throughout the country. | Photo courtesy of Sprint Nextel Corp.
Early adopter Sprint Nextel Corp. first began testing hydrogen fuel cells as a backup power source for its cell towers in 2005. The company sought a cleaner, quieter alternative to diesel generators, which historically power critical cell phone towers when disasters—natural or otherwise—strike. 
The first deployment of cells proved to be dependable, required little maintenance and could be deployed in places where diesel generators couldn't due to noise or emissions restrictions. But the cells lasted just 16-20 hours and needed an easier refueling process.
Through a $7.3 million Recovery Act grant awarded last year, Sprint Nextel has another opportunity to further reinforce its infrastructure with the clean technology.
The funding will help Sprint to double the number of hydrogen fuel cells it currently deploys across the nation and demonstrate the economic and operational viability of a 72-hour fuel cell system backing up its wireless networks.
Sprint plans to begin rolling out up to 260 new and improved hydrogen fuel cells to sites in California, Connecticut, New Jersey, and New York in the fall of 2010. Seventy fuel cells in Texas and Louisiana will be upgraded as well.  The new 1-kW to 10-kW fuel cell systems are expected to outlast their hydrogen fuel cell predecessors by more than 50 hours, and they are also easier to refuel.
But the fuel cell initiative is not just for one company's benefit.
"This is something that the rest of the industry can use as a model," says John A. Holmes, Sprint's manager of network design engineering. "We're excited to be in a leadership position but we also hope our efforts will encourage the deployment of hydrogen fuel cells across the industry."
Sprint Nextel and its partners may pave the way for wider adoption of fuel cells in the sector. ReliOn and Altergy provided fuel cell technology. Other inputs included hydrogen from Air Products, implementation from Ericsson and architectural support from Black & Veatch and Burns & McDonnell.
Hydrogen fuel cells break hydrogen down into electrons and positively charged ions to produce electricity. Only water and heat are emitted from the process.  By contrast, 330 diesel generators would generate 1,650 lbs of carbon monoxide, 81,510 pounds of carbon dioxide, 2,310 pounds of unburned hydrocarbons and 99 pounds of particulate matter.
Moreover, a standard diesel generator's noise level of 81.9 dBA at 10 feet is considered "potentially hazardous" to hearing by the American Speech Language Hearing Association.  Hydrogen fuel cells' 40 dBA at 10 feet noise level is on par with a quiet room.
Additionally, hydrogen fuel cells are low maintenance.
"They don't require as much tender care and feeding as diesel generators, which have all the moving parts associated with an internal combustion engine," Holmes says.