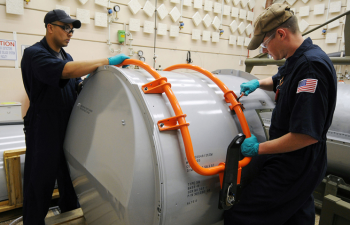 Workers dismantle a remaining B53, ensuring that the system will never again be part of the U.S. nuclear weapons stockpile. | Credit: NNSA photo
On October 30th, our nation honored the men and women who have served and sacrificed to support America's nuclear security mission. From World War II, through the dark days of the Cold War, to the present day, these patriots have worked to keep our country safe and secure.  
Despite the enormous pressure of their jobs, America's nuclear security workers have always risen to the occasion. For more than 70 years, their work has not only strengthened our national security, but helped make the United States a leader in science, technology and engineering. Their efforts have resulted in astounding innovations that have improved our defense and advanced a wide range of fields including computing and nuclear medicine.
Today, the men and women of our nuclear security enterprise continue this proud tradition. These dedicated public servants are maintaining a safe, secure, and effective nuclear deterrent, reducing nuclear dangers around the world, and pushing the boundaries of science and technology to deliver new solutions to national challenges.
On the National Day of Remembrance, let us reflect on the remarkable contributions of our nuclear security workers – both past and present – and thank them for their service.