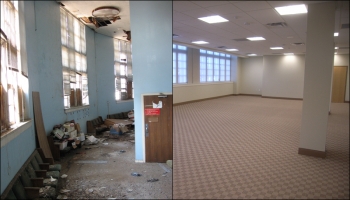 Before and after shots | Courtesy of the Office of Weatherization and Intergovernmental Programs
The imposing brick structure that generations of city residents knew as the Baton Rouge Junior High School is being given an "extreme makeover" and a new purpose for the 21st Century, thanks in part to funding from the American Recovery and Reinvestment Act.
The 50,000 square foot building, which has been on the National Register of Historic Places since 1984, is now a city government facility that is being redeveloped into the headquarters of the Planning Department, the City Parish drawing repository, the Permit One-Stop Shop and select Department of Public Works engineering divisions, which used to occupy office space in three different buildings around the city. The facility will remain operational as part of the city's critical infrastructure during declared emergencies and storm events.
The city's goal is to have a rehabilitated structure that is as energy efficient as possible while complying with LEED green building standards for future building projects. Efficiency upgrades to the structure include LED lighting improvements which provide 90 percent savings over traditional fixtures, digital controls for air handling units and lights, tankless hot water heaters and the addition of photovoltaic panels on the rooftop to offset daytime electrical use and to serve as a backup power source during emergencies.
The entire renovation is expected to cost approximately $7 million, with $1.4 million from the city's Energy Efficiency and Conservation Block Grant.
The energy efficiency upgrades are expected to provide more than $2.1 million in energy savings over the product lifecycles of all the building's upgraded materials while preserving the historic character of the structure for future generations.