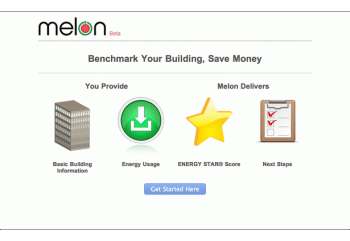 The Melon Green Button App | Image by www.melonpower.com
This is the second in a series highlighting the winners of the Apps for Energy competition.
Thanks to the Green Button program, millions of utility customers have access to their electricity usage data. The Apps for Energy competition is an Energy Department effort to provide these customers with apps that use this data, allowing everyone to get the most out of their Green Button data.
Melon, an app that makes it simple for commercial building managers to get an ENERGY STAR benchmark for their buildings, took second place in the Best Overall App category. Building managers and their service providers can use Melon to easily incorporate Green Button data into the benchmarking process.
Melon (the app and the company) was created by Craig Isakow. While working as a contractor to the Energy Department and at Johnson Controls, Craig discovered that getting a year's worth of building energy data into a useful format was often difficult, complicating the ENERGY STAR benchmarking process for many buildings. The Green Button initiative promised a solution to this problem, and Craig was inspired to create a company focused on using Green Button data to simplify the benchmarking process, both for building owners and for energy efficiency service providers.
The Apps for Energy competition was a great motivator. After founding Melon in April 2012, Craig says that the app was "conceived, created, and delivered in five weeks."
What's next for Craig and Melon? Craig has plowed his Apps for Energy award back into the app, hiring a user experience designer to improve the interface and adding the ability to handle customers with multiple meters and a variety of data formats. Additionally, Melon is rolling out new reports that help customers take action based on their Green Button energy data.
Congratulations to Melon on their award!