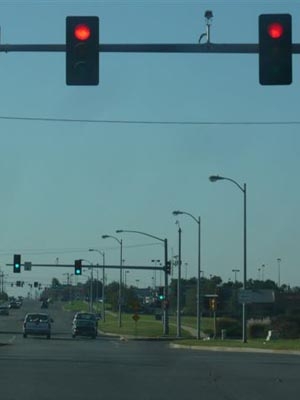 Topeka is using Recovery Act funding to resynchronize 22 traffic lights. | Photo by Linda Voss
The five-lane 21st street corridor in Topeka is a hub for restaurants, shopping and entertainment.
"This is where everyone in Topeka goes to shop," says Topeka resident Linda Voss.
In addition to food and fun, the one-mile corridor is home to seven traffic lights—and for drivers, a potential traffic stop every 754 feet, or a little more than two football fields.
"The traffic signals are a challenge to time in this area," says Voss, who also serves as a city traffic engineer. "There's a huge flux in traffic from day to day and month to month."
Less stopping equals more savings
By this winter, the 22 traffic signals within Topeka's three major traffic corridors—21st Street, Wanamaker and Topeka Boulevard—will be resynchronized to help reduce driving time, gas consumption and emissions. These corridors see anywhere from 17,000 to 30,000 cars daily. The project is being financed by $678,000 of a $1.2 million Energy Efficiency and Conservation Block Grant (EECBG) from the Recovery Act.
"From a driver's point a view, this will cut down delays in driving," says Voss. "For the city, it's more about the big picture. This is going to help our city go green. As a driver, you might not notice saving 50 cents a day, but it's that big picture that adds up. It makes a difference when all the drivers are saving that much."
How cameras get signals chatting
To improve traffic and reduce emissions, the city purchased the "InSync" traffic system from Kansas's Rhythm Engineering. The system enables traffic signals at different intersections to communicate with each other.
A camera on each traffic signal detects when cars enter the corridor's one-mile "tunnel", and that signal alerts subsequent signals that traffic is coming. The result: the lights ahead turn green within a few seconds of their approach to the next light and traffic keeps moving.
The system reduces stops at traffic signals by anywhere from 60 to 90 percent, says Scott Alisoglu, the funding resource analyst and EECBG program coordinator in Topeka. The new light pattern is expected to save 110,000 gallons of gas per year. According to the U.S. Environmental Protection Agency calculations, that's more than 1,000 tons of CO2 emissions—the same amount put out from the energy use of more than 80 homes per year.
"This is really about fuel savings and protecting the air we breathe," says Voss.