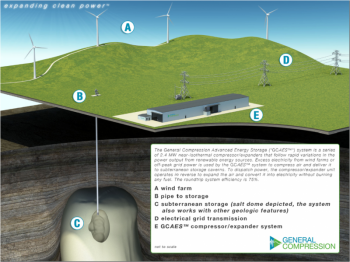 Image of the General Compression CAES system | courtesy of General Compression, Inc.
Earlier this week, we told you about a new company that's developing battery technology that will allow energy storage for multiple hours on the power grid. General Compression is another innovative company that's developing a different way to store electricity by using compressed air energy storage, or CAES. The technology uses cheap power to pump air into natural underground caverns, and then releases it to turn a turbine when power demands are at their peak. Basically, when the wind blows too hard, wind energy is stored as compressed air. When the wind doesn't blow hard enough, compressed air is expanded to generate power – all without burning any fuel.
We spoke with General Compression's president and founder David Marcus to find out more about the innovation behind the science. David, along with co-founders Michael Marcus and Eric Ingersoll (Vice President and CEO, respectively), founded General Compression in 2006 to address the issue of wind power intermittency. In order to compete with power contracts that already exist with the coal, gas and nuclear sectors, wind power needs to be made dispatchable - meaning it would have to be able to be stored for at least 100-200 hours before being sent back to the grid for consumption.
General Compression's model is different from the two existing CAES plants in Huntorf, Germany and McIntosh, Ala. because the technology sends power back to the grid without burning any fuel. Instead, their design relies on a series of near-isothermal compressor/expanders that closely follow the output of a wind farm. Excess off-peak electricity from the wind farm is then used by General Compression's CAES system to compress air and deliver it to underground geological features for storage until its later release.
General Compression is currently constructing their first demonstration plant with ConocoPhillips in Texas. The plant will be online this summer, and David hopes to have the company in the commercial stage in less than a year.
The company was helped along the way by a grant of $750,000 from the Department of Energy's Advanced Research Projects Agency – Energy (ARPA-E) to test the innovative CAES technology. General Compression subsequently received over $12 million in additional funding from existing and new investors following the ARPA-E award.
If you want to know more about General Compression and other innovators from across the energy, business and government sectors, visit the ARPA-E Technology Showcase at the ARPA –E Innovation Summit later this month. It's not too late to register for the Summit, where you can hear more from clean energy entrepreneurs and industry leaders like Energy Secretary Steven Chu, U.S. Navy Secretary Raymond Mabus, Bank of America Chairman and former DuPont CEO Charles (Chad) O. Holliday, Jr., and many other notable speakers.
April Saylor is an Online Content Producer and contractor to the Office of Public Affairs.