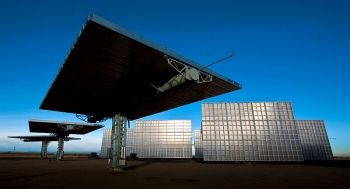 The Amonix 7700 CPV Solar Power Generators at the SolarTAC facility in Aurora, Colorado. | Photo credit: Dennis Schroeder, National Renewable Energy Laboratory staff photographer
Earlier this month, Secretary Chu announced the details of the Department's "SunShot" initiative to reduce the total costs of solar energy systems by about 75% by 2020, making solar cost competitive without subsidies with other forms of energy. Building on the Department's ten years of solar energy research and development, this initiative works to further advance American ingenuity and leadership in clean energy technologies. In fact, over the past decade, the Department has invested more than $1 billion in solar energy research which has subsequently leveraged more than $2 billion in private industry funding.
In this week's Geek-Up[date], we're featuring a game-changing solar technology that started with a $1.2 million award from the Department's National Renewable Energy Lab (NREL) in 2004, received an additional $15.6 million award from the Department in 2007, and finished 2010 with $130 million in private equity financing.
Through a partnership with NREL, California-based Amonix developed a concentrated solar power technology the size of an IMAX screen with the highest level of efficiency ever achieved for this type of operating solar system. The Amonix 7700 Concentrated Photovoltaic (CPV) Solar Power Generator uses acrylic Fresnel lenses to concentrate sunlight up to 500 times its usual intensity and direct it onto 7,560 tiny, highly efficient multi-junction PV cells.
While a standard six-inch square silicon wafer produces about 2.5 watts of electricity, the same wafer in the Amonix 7700 produces more than 1500 watts and requires 500 times less space.
Check out more on how Amonix and NREL developed these record-setting PV cells here.
 
---

At Ames National Lab, researchers are advancing the monumental work of Thomas Johann Seebeck and Jean-Charles Peltier. For two centuries since the discovery of the Seebeck-Peltier effect, scientists have been working to improve the efficiency of thermoelectric materials (used to convert heat into electrical energy).
Last year, Ames scientists found that by adding just one percent of the rare-earths elements cerium or ytterbium to the commonly used group of thermoelectric materials known as TAGS (tellurium, antimony, germanium and silver), they could significantly boost conversion efficiency.
The team used Ames's solid-state nuclear magnetic resonance spectroscopy instruments to verify that the one percent addition of rare earths elements altered the structure of the TAGS material. The group now plans to test the material in order to better understand why the change took place and, hopefully, increase its performance further.
Read more on how Ames scientists are boosting thermoelectric conversion efficiency here.