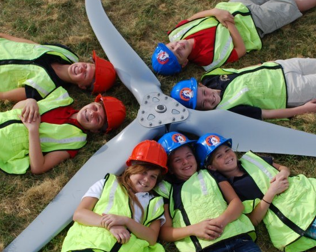 Idaho students learn about wind turbines; Source: Wind for Schools
Idaho National Laboratory researcher Mark McKay has developed a desktop widget that displays real-time information from the Wind for Schools program, a DOE initiative at numerous schools across Idaho, Alaska, Kansas, Colorado and Nebraska that equips them with Streamline turbines. This widget gives students, teachers and researchers access to data from these turbines, including wind speed, watts produced and voltage.
McKay hopes that through this tool, students will be able to learn first-hand about wind energy and explore questions such as, "How big a system do you really need and can we develop turbines that are more efficient?" and "Can you predict how much energy you will make tomorrow if you know the weather forecast?"
Learn more about the Mark McKay's widget and how the Wind for Schools program is bringing wind into classrooms.
---
Montana-based Zinc Air, Inc. announced this week that it has obtained exclusive rights from the Lawrence Livermore National Laboratory for the zinc air fuel cell. Zinc Air Fuel Cell (ZAFC) products combine atmospheric oxygen with zinc metal pellets as the fuel to generate electricity. This process provides instantaneous electrical energy with no greenhouse gas emissions. It also doesn't use lithium, the majority of which is found abroad. Conversely, more than 35 percent of the worldwide resources of zinc are found in the US.
John Cooper, the retired LLNL chemist who invented the technology, explains, "In the short term, this new technology has the potential to positively impact fleets of electric vehicles, such as FedEx, UPS and the US Postal Service, that combine high daily usage, low-power requirements, and an in-place service infrastructure."
Check out how these batteries can be refueled in just 10 minutes .
---
Today, the National Renewable Energy Laboratory released a new report, Assessment of Offshore Wind Energy Resources for the United States. The report estimates 4,150 gigawatts (GW) of potential wind turbine capacity from US offshore wind resources (enough to power more than three flux capacitors). NREL used high-resolution maps predicting annual average wind speeds at least 7 meters per second (about 16 miles per hour) at a height of nearly 300 feet to determine this potential.
Visit DOE's Wind Energy Program to learn about the energy potential near your home.