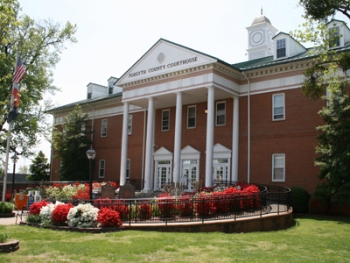 A new energy management system in Forsyth County's 52,057 square foot courthouse is expected to save about $9,000 annually. | Photo courtesy of Forsyth County
Forsyth County, Georgia has been among the nation's fastest growing counties for the past ten years.  Given the growth, officials are working diligently to remain mindful of its environmental impact. 
With the help of a $661,000 Energy Efficiency and Conservation Block Grant from the U.S. Department of Energy, Forsyth has four large projects in the works, including lighting, insulation, HVAC and energy management technology upgrades. 
All told, the projects are expected to save the county nearly $72,000 a year in energy bills.
Heating, ventilation upgrades
When selecting projects, the county focused on its largest buildings to ensure that the work had the greatest impact.
"A lot of the buildings were constructed between 1975 and 1999 and needed new HVAC systems," recalls Nancy Smallwood, the county's grants administrator.  "The county was trying to figure out how to finance it in their budget and this grant gave the county the opportunity to become greener and more energy efficient."
The grant is helping the county replace outdated HVAC systems in its detention center, department of family and children's services building, gateway building, county administration building and two fire stations. 
Five installations will be completed this month, followed by the administration building in October. Together, the five installations alone are expected to save the county about $34,000 a year.
The county is also set to expand its computerized energy management system, to include the administrative building and the local courthouse.  The 52,057 square foot courthouse's current system dates back to the 1970s and doesn't provide the real time information needed to run efficiently.  County officials expect the new system to reap about $9,000 in savings annually.
 
Overhead impact
The energy savings don't stop there. 
Forsyth also is retrofitting storage facility roofs and roughly 1,822 interior lighting fixtures.
Old T-12 and magnetic ballast lights were swapped with more energy efficient T-8 electronic ballast varieties in a change expected to save about 158,902 kWh and about $15,744 annually.
The grant also will fund the retrofitting of five metal roofed buildings used for warehousing, fleet services and water.  The upgrade to Energy Star R-value rated 9 foam insulation will prolong the roof's life expectancy and lower energy costs by an estimated $13,000 annually.
Even citizens who never set foot in a county building benefit from the energy efficient building upgrades, says communications director Jodi Gardner. "These projects will improve existing facilities' energy operating performances while reducing energy usage and costs thereby saving the taxpayers money."