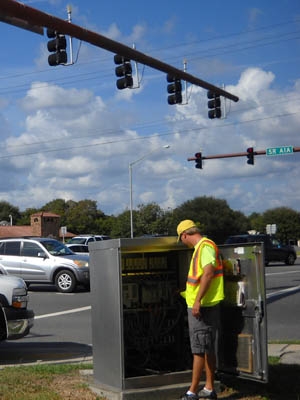 A worker synchronizes a traffic light on State Road A1A in St. Augustine, FL. | Energy Department Photo |
The intersection of State Road A1A and State Road 312 in St. Augustine is messy at 5 o'clock. On one side, tourists returning from Florida's beaches try to navigate their way to hotels and restaurants. On the other side, commuters try to make their way to residential neighborhoods.
Cars wait and wait for turn arrows, while some locals cut through fast food parking lots to avoid the red lights.
Waiting at traffic lights not only frustrates drivers, it's not good for the environment. Idling vehicles use up to several billion gallons of fuel and emit large quantities of air pollution and greenhouse gases each year.
Saving money with shorter stops
St. Johns is tackling the traffic-timing problem. 
Through a $276,000 investment from a $438,000 Energy Efficiency and Conservation Block Grant, the county will improve traffic flow by re-synchronizing signals at five major road segments. In total, 23 traffic signals will be retimed and synchronized, resulting in lower fuel consumption, shorter travel times, increased travel speed, less stopping and less engine idling.
The county estimates drivers will save nearly 729,000 gallons of gasoline and reduce CO2 emissions by more than 2,200 metric tons annually.
"These are major arterials in the county," says Jay Kamys, special projects coordinator with the St. Johns Board of County Commissioners. "The changes at these intersections will affect traffic flow. We're looking to get the most bang for our buck effecting these changes with a well thought out and targeted plan."
Change requires prep
The county is hiring a consultant who specializes in traffic light synchronization to provide the engineering reports for the project. The program is scheduled to be completed by April 2012. 
"We can't just say we're going to change the signals in one day," says Kamys. "It's far more complicated than most people think."
There is a substantial amount of preparation that needs to be done before the actual changing process can begin, including traffic counts at major intersections—how many cars go through and how long do they wait—and figuring out timing between sets of lights.
On top of that, there are other things to consider, like left-turn-only lanes and no-right-on-reds.
"Turning movements can be different depending on the day of the week and time of day," says Kamys. "There are a lot of factors to consider with these lights."