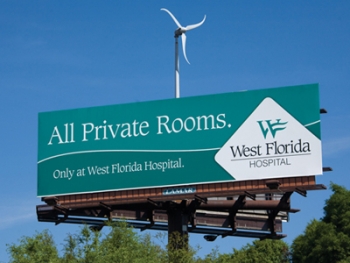 A wind turbine tops a Lamar Advertising billboard in Pensacola, Florida | Photo courtesy of Karena Cawthon
Drivers along the Florida stretches of I-10, I-110, I-75 and other highways will soon see more than advertising messages on roadside signs.  Lamar Advertising is converting almost 1500 of its Florida billboards to renewable energy devices. Solar panels and wind turbines will top the displays.
The company hopes to communicate the value of renewable energy to millions of travelers cruising along major Florida highways and thoroughfares. The Florida Energy and Climate Commission liked the sound of that and granted the project $2.5 million through the U.S. Department of Energy's State Energy Program.   Lamar contributed $10 million to the initiative.
"We're administering a lot of grants, rebates and programs but we didn't have a really focused education component," says Robert Vickers, director of the Florida Energy and Climate Commission.  "This fits nicely into that niche.  It combines renewable energy, energy efficiency and public education into one program.  And I can't imagine a more high profile opportunity than outdoor signage." 
Greg Gauthier, Lamar's manager of strategic projects, agrees that the real beauty of this program is its visibility.  "In terms of capital allocation, we have a commitment to doing this because not only do we think it's the right thing to do for the environment, we think it's the right thing to do for Lamar," Gauthier says. 
Highway visibility
"People will see the solar panels and wind turbines and see a system that could well be on their own home," says Gauthier.  "That's the key to really growing this industry."
Moreover, about 100 dedicated Lamar billboards will help consumers make the alternative energy connection.  These displays, located throughout Florida, will feature advertisements for Renewable Florida, which helps Floridians tap into solar and wind energy information resources.Indeed, the small solar and wind systems housed atop Lamar billboards in Pensacola, Ocala, Fort Walton, Panama City, Tallahassee, Daytona Beach, Lakeland and Fort Meyers, closely resemble those that home or business owners can install on their own properties.  And all of the materials are sourced from American companies such as SolarWorld USA and Southwest Windpower. The materials are all routed through Lamar's manufacturing facility in Pensacola, from where three crews of two technicians are dispatched to do the installations.
Renewables and net-metering
The move to renewable energy on its billboards took hold in the last two years as Lamar experimented with several wind and solar energy options to develop the operational expertise necessary to launch such a full-fledged initiative.  
Lamar's wind and solar devices don't power or light the signs directly.  Rather, they return a significant amount of renewable, emission-free energy to the power grid during peak consumption hours, Gauthier says. 
Lamar expanded its original plan to install (500) 2,000-watt systems in favor of deploying a greater number of less powerful units because Florida utilities use a net metering standard that compensates alternative energy producers on a 1:1 basis for what they produce vs. consume.  If more energy is produced than consumed, the return on investment is less, because the utility only pays for the costs, such as fuel, that it avoids by having producer's power come into the grid.
 
"Because of net metering, we sized each individual array for the amount of power that's consumed, increasing the number of installs dramatically," Gauthier explains.  "Now we'll have three times as many billboards with solar panels, spread across eight markets, with millions of people passing them every day."