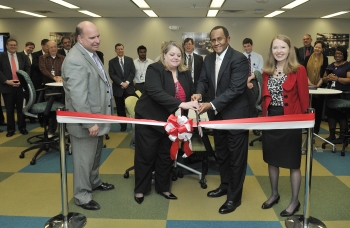 Peter O'Konski, Director for the Department's Office of Administration; Lauren Hall, Office of Administration; Mel Williams, Associate Deputy Secretary and Director of the Office of Management, Ingrid Kolb cut the ribbon on the new Headquarters Mobile Work Center. | Energy Department file photo, credit Ken Shipp.
Not too many people have a job where not getting noticed is one of the barometers of success.
But that's Peter O'Konski's world.
As the new director for the Department's Office of Administration, O'Konski replaces outgoing director Brian Costlow and manages the logistics and facility operations at the 1.5M square foot Forrestal and Germantown complexes.
Which is why success for O'Konski is often marked by people forgetting that he's there – when they aren't too cold or too hot and when their mail, car and printing arrives on time.
"When our customers don't need to think about facilities and logistics they can focus on the job they came here to do," O'Konski said.
Incidentally, building management is the part of O'Konski's new job that he's looking forward to tackling the most.
"I like taking facilities like this – which are far from new – and incorporating new technologies that lead to energy savings and greater comfort for our employees," he says of 40 plus year old buildings that his organization manages.  "But, it isn't just the technology that runs the buildings; it's the people. I want my staff to know their buildings and how to get the most out of them to provide comfortable and cost efficient space."
And he's shepherding an idea that could lead to a big change – the potential replacement of Forrestal with a newer, more energy-efficient building. The project is in the early stages of planning along with a $1B redevelopment of the Maryland Avenue, L'Enfant Promenade and the 10th Street corridor.  Since revitalizing of these areas of the city is important to the District of Columbia and the National Capital Planning Commission, the Department might have an opportunity to build a more efficient replacement for Forrestal. But, it will take time, likely at least until the end of the decade.
He's also making the Energy Department's facilities more efficient now, installing one of the largest solar arrays in the Washington area on the grounds of the Germantown site, in addition to a cool roof to replace an aging traditional roof there.
Under his leadership, the Department is also opening its first Headquarters Mobile Work Center in the basement of Forrestal to make it easier for teleworkers and visitors to conduct business at the Energy Department.
"It's not about simply making sure the lights are on, it's about doing our best every day to support the mission and keep people comfortable, so they can do their best work," O'Konski said.