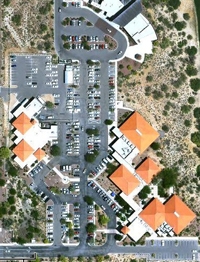 An aerial shot of Oro Valley, Ariz.'s town hall campus shows proposed solar locations. | Photo courtesy of Oro Valley
Temperatures above 100 degrees mean that staying cool and being energy efficient is important to the small town of Oro Valley, Ariz. But finding the funds to do both can be a challenge. It was this heat – and the availability of a federal grant – that Bayer Vella, the town's conservation and sustainability manager, cited as a reason the city is forging ahead with energy retrofits and solar projects. 
The improvements could save the city an estimated $164,000 annually through extensive solar-covered parking, energy efficient lighting and solar heating units on the police department and other buildings. 
To fund these projects, the city is combining several funding sources, including a $164,200 Energy Efficiency and Conservation Block Grant (EECBG) and $2.4 million in taxable, direct-pay Clean Renewable Energy Bonds (CREBS).  In addition, Tucson Electric Power is subsidizing 50 to 60 percent of the costs for the solar materials as part of its Renewable Energy Credit Purchase Program.
"We folded the grant money in with CREBS funding as well as town money to create what is a $4 million project, which is fairly substantial for a town of our size – about 44,000 people," says Vella.
Vella says the project took off shortly after the EECBG funding was announced last August. Awarded by the Department of Energy, this grant is part of the American Recovery and Reinvestment Act (ARRA).
"It was absolutely critical for us to make this work…and to garner approval [from town government] we had to show how this was a fiscally sound way to proceed," Vella says. "It's anticipated that 100 percent of the costs for this entire project will be recovered in 10 years due to energy savings. We anticipate more than breaking even."
Gray water and LEEDs commitment
The small town is committed to achieve Silver LEED certification for existing town-owned buildings while improving energy efficiency and cutting costs.  LEED is an internationally recognized green building certification developed by the U.S. Green Building Council (USGBC). It recognizes performance in the areas of sustainable site development, water savings, energy efficiency, materials selection and indoor environmental quality.
One project that Vella says should be completed in September is the installation of 11 new heating, ventilating and air condition (HVAC) systems in town-owned facilities. All of the HVAC systems will be controlled through one internet portal, but each building will have sub-meters to track energy use and make improvements.
Oro Valley's efforts to improve energy efficiency will not stop with these retrofit projects. Vella says the town has stipulated requirements for the private sector to use gray water and build homes with gray water-ready plumbing as well as solar capabilities. Gray water is wastewater collected from clothes washers, bathtubs, showers and laundry or bathroom sinks. If properly collected and stored, it can be safely re-used and reduces fresh water consumption.
But first, the town officials want to set a good example.
"Before going into the private sector and really advocating, we want to show what we've done," Vella says.