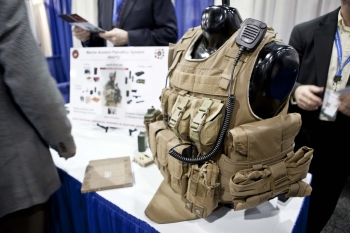 At the 2013 ARPA-E Energy Innovation Summit Technology Showcase, the U.S. Marine Corps table featured a special vest with built-in solar cells, while the U.S. Army table highlighted a vest with a built-in fuel cell battery -- two ways to help efficiently power technology for American soldiers. | Photo by Sarah Gerrity, Energy Department.
Next week, more than 2,000 energy innovators will gather just outside Washington, D.C., for the Energy Department's ARPA-E Energy Innovation Summit. The event, now in its fifth year, brings together entrepreneurs, investors, industry and government thought leaders to collaborate, share knowledge and build relationships to help bring transformative energy technologies to market. Here is what you can expect to see at this year's ARPA-E Summit.
Showcasing Breakthrough Technology
The Summit includes an exhibit hall showcase with hundreds of breakthrough energy technologies from ARPA-E-funded awardees, research organizations and a selective group of companies. Attendees visiting the Technology Showcase get to see how emerging energy technologies work firsthand. This year, they will have a chance to see a Toyota Prius Plug-In demonstration project with ARPA-E-funded components that could make the car faster and easier to charge, as well as BMW's new i3 -- an electric car that incorporates lightweight carbon fiber reinforced plastic and is slated to hit the U.S. later this year. View a photo gallery from last year's Technology Showcase, and see the full list of this year's Showcase participants.
Insights from Top Energy Thought Leaders
ARPA-E has once again pulled together a wide array of keynote speakers and panelists, including author and journalist Thomas Friedman, NRG Energy CEO David Crane, Navy Vice Admiral Michelle Howard and White House Counselor to the President John Podesta. Energy Secretary Dr. Ernest Moniz and ARPA-E Acting Director Dr. Cheryl Martin will highlight how the Energy Department is accelerating the development and deployment of advanced energy technologies. For a full list of speakers and panel discussions, check out the agenda for the 2014 Summit.
New in 2014
As part of ARPA-E's ongoing quest to innovate, the 2014 Summit will feature a variety of new elements, including a pre-summit session where attendees can learn about career opportunities at ARPA-E and how to submit compelling funding applications that get noticed. A new "Innovation Board" in the foyer will provide attendees with opportunities to collaborate on solutions to critical energy challenges. The National Venture Capital Association will also be hosting a new networking event on the Showcase floor, and the popular Government Networking Program has spun out a separate state and global component.
For more on the 2014 Summit and how to register, visit www.arpae-summit.com. We hope to see you there!